It may not be abundantly apparent what The Voice coaches Blake Shelton and Adam Levine have in common. However, both men once held the title of PEOPLE's Sexiest Man Alive.
Adam Levine reflects (and makes fun of Blake Shelton) on being the Sexiest Man Alive in 2013
It may be confusing as to why something that happened seven years ago is at the forefront of Adam Levine's Instagram stories. However, this topic came up as part of a new viral Instagram trend. Luckily, PEOPLE explains the new trend. It seems that this new trend is a new take on ask me anything "where users ask questions using a feature on the photo-sharing app." Usually, it's something along the lines of "share a photo when you felt most handsome," and then the user would share the photo. Sometimes users even caption their photo selection with an explanation.
All of this Sexiest Man Alive banter begins when one user asks Adam Levine "How did it feel to be the sexiest man alive back in those days?" Notably, the user is referencing Levine's time in 2013 with the title. Seemingly candidly, Levine answers, "totally silly but flattering."
Things get interesting when a user brings up the fact that fellow The Voice coach, Blake Shelton was named Sexiest Man Alive in 2017. The user asks, "Do you think blake also being the sexiest man alive was a People's downgrade?" In what seems to be true Adam Levine fashion, he simply responds with the red 100 emoji.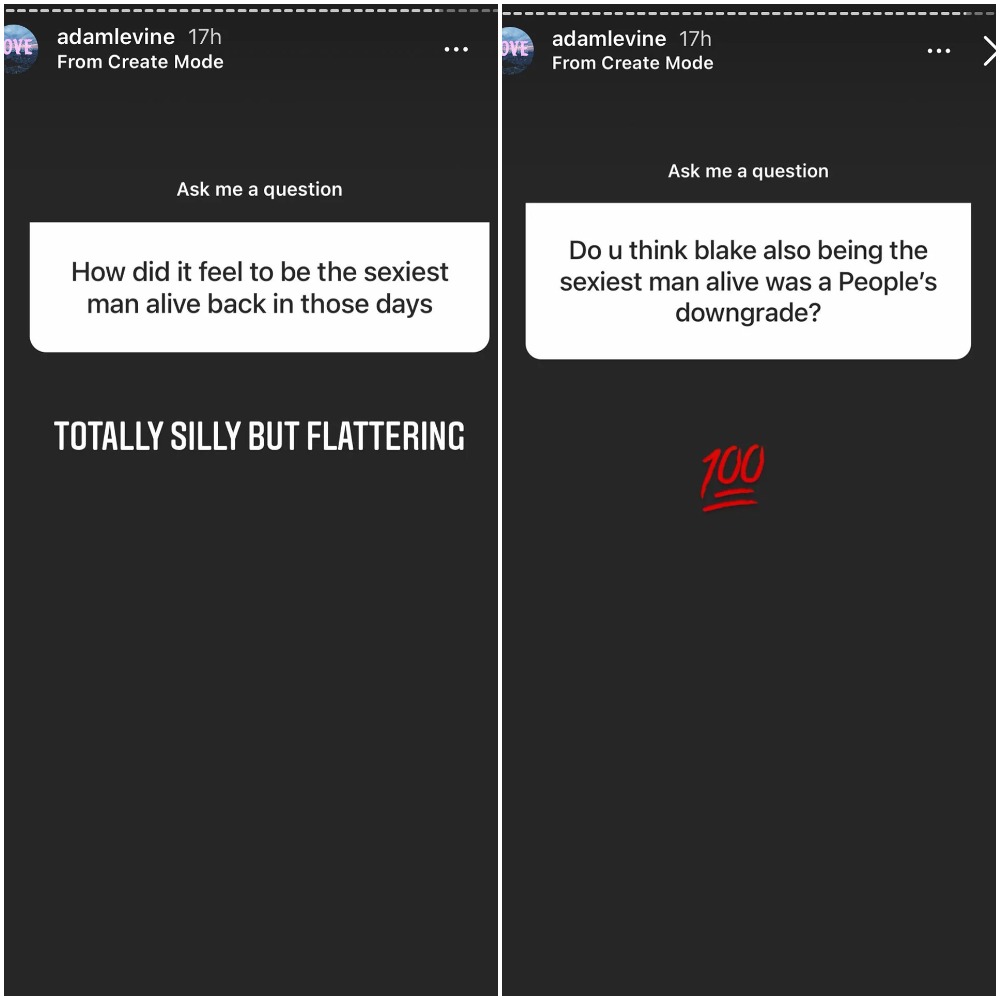 Blake Shelton and some thoughts on being 2017's Sexiest Man Alive
While it doesn't appear that Blake Shelton responds to Adam Levine's latest dig at him, there are some things of note about Shelton and the topic. At the time, Shelton shares, "Ya'll must be running out of people. Like, Wow, we're down to somebody who is somewhat symmetrical." While it is unclear what he means, he goes on to give credit to his fiancée, Gwen Stefani. As a supportive partner, Stefani tells Shelton, "Listen to me, you're going to regret this for the rest of your life if you don't take this gift and just live in the moment."
However, being gracious isn't the only incentive Blake Shelton has as Sexiest Man Alive. Without a doubt, being able to stick it to his frenemy Adam Levine is high on the list of things he likes about the title. At the time Shelton says, "I can't wait to shove this up Adam's ass." Concerningly, Shelton is serious. He goes on to say, "As proud as  I am and honored that you guys asked me, that's really the only thing I care about."
What do you think about Blake Shelton and Adam Levine's banter? Do you think they're really closer than they let on? Let us know in the comment section below. Come back to Country Music Alley for more news about your favorite Country stars (and their friends).