One thing is for certain when it comes to America's favorite Country music couple, Blake Shelton and Gwen Stefani. And, that is things are sure to be entertaining. However, is it still entertaining when the expectation is a last-minute celebratory dinner for The Voice coaches?
John Legend has a tall order for Chrissy Teigen (and sous chefs).
Luckily for fans, Today reports the play by play for the conception of what is sure to be an entertaining dinner. Apparently, Chrissy Teigen didn't originally plan on preparing dinner for The Voice coaches Blake Shelton and Gwen Stefani after the Season Finale, but what's a cookbook author to do?
According to Today, Teigen's husband, John Legend, made what seems like a last-minute request. Consequently, Today reports that Legend "insisted she cook dinner for him, Gwen Stefani and Stefani's fiance, Blake Shelton after they wrapped up The Voice finale."
In true comical Chrissy Teigen fashion, she documents the whole ordeal on her Instagram stories. The escapade begins with Teigen sharing some grief about the whole arrangement. "OK, it's the finale of The Voice. I can't even watch it. John's filming it right now, and it's not even on."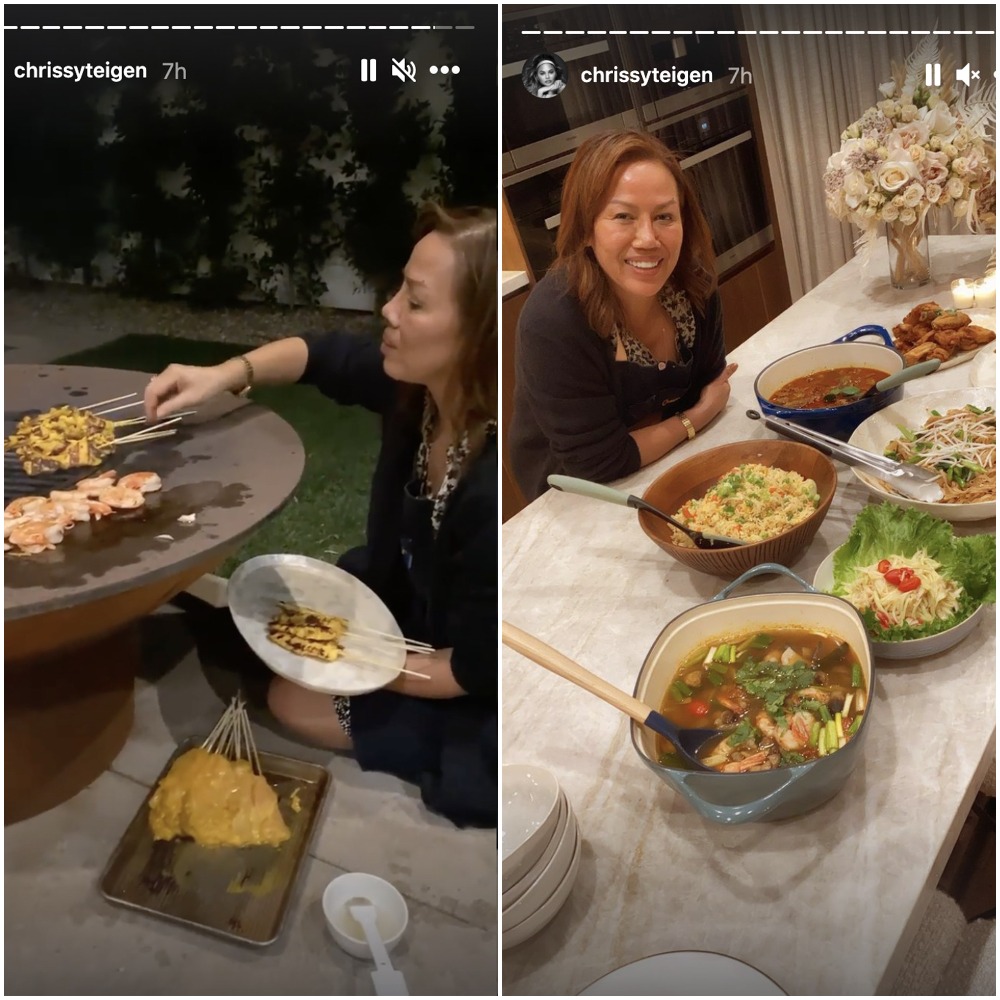 Chrissy Teigen, her mom (and others) cook dinner over a fire pit for Blake Shelton and Gwen Stefani.
While it would seem like it is no big deal to make dinner for The Voice coaches, Chrissy Teigen's Instagram story proves to the contrary. In one clip she says, "And then we're like, 'It's kind of a big deal to make dinner for Gwen and Blake. It's a big deal.'" Apparently, Teigen's solution to this last-minute request is to make dinner over the fire pit. A clip from Teigen's Instagram stories shows Teigen's mom, and fellow cookbook author, assisting in the dinner efforts.
While there is no mention of the dinner review by Blake and Gwen, there is a picture of Teigen's mom seated proudly next to a meal that looks fit for royalty. While it doesn't seem that Teigen's momma seems to bat an eye, there could be a reason. Apparently, her son-in-law is notorious for just casually inviting his peers over for meals worthy of a celebration.
According to Today's article, this is the second year in a row that John Legend pops an impromptu wrap party on his wife. Last year Teigen takes to social media on quite the rant. In one of the high points she says, "[John Legend] has no idea how much I plan normally and he's like 'no it's fine they just wanna have dinner' but it's literally the finale of their show???" Also seemingly adding to her frustration is that she didn't have an ice cream truck.
What do you think about John Legend's casual approach to inviting company over for dinner? Do you think Chrissy Teigen knocks it out of the park? Let us know in the comment section below. Be sure to come back to Country Music Alley for more news about your favorite Country stars.