Latest posts by Mandy Robinson
(see all)
Laine Hardy the champion of American Idol Season 17 makes a name for himself in Country Music. Despite the limitations of 2020, predictions for him in 2021 sound positively glowing. Humble as ever, the young man from Louisana seems astonished and grateful. He shared the prediction that he could be the "Champion of Country Music" in 2021.
Laine Hardy first caught the eye of Country News as a 'rising star'
We reported in Mid December, that Laine took a bit of time to bolt out of the stable after his American Idol win. But, he "slowly claws his way up as a Country singer to watch." Nevertheless, in 2020 he put out some original music which his fans waited for very patiently. More than just a pretty face, the rather cute singer used the quarantine time to work on some originals and video. And that's when he caught the eye of Country Now as a rising star for 2021.
One of his best efforts that received acclaim quickly came in July when he released Tiny Town in honor of his hometown. Laine Hardy fans hoped that finally, radio stations would start playing his music. And many of them complained they request it, but his music never made it to the radio stations. Other notable music from him included Ground I Grew Up On in April. It came soon after the audio for Let There Be Country. Now, he's touted as potentially the "Champion of Country Music" 2021.
'Champion of Country Music' 2021
On December 31, Laine took to his Instagram and he sounded delighted at the way Music Mayhem Magazine described him. He shared a cover of the mag and cited them. Plus, he said, "WOW… thank you!" He seemed very taken by what the outlet wrote. They said, "The Louisiana native may have been the champion of Season 17 of American Idol in 2019 but we think he is going to be the champion of country music in 2021."
The article also explained why they think Laine Hardy's more than just a rising star. They talked about Tiny Town, Ground I Grew Up On, Other LA, and Let There Be Country. Certainly,  they feel that Tiny Town "Put him on the map" in 2020.  In a difficult year, tour cancellations led to him resorting to "virtual tours" which seemed extremely popular.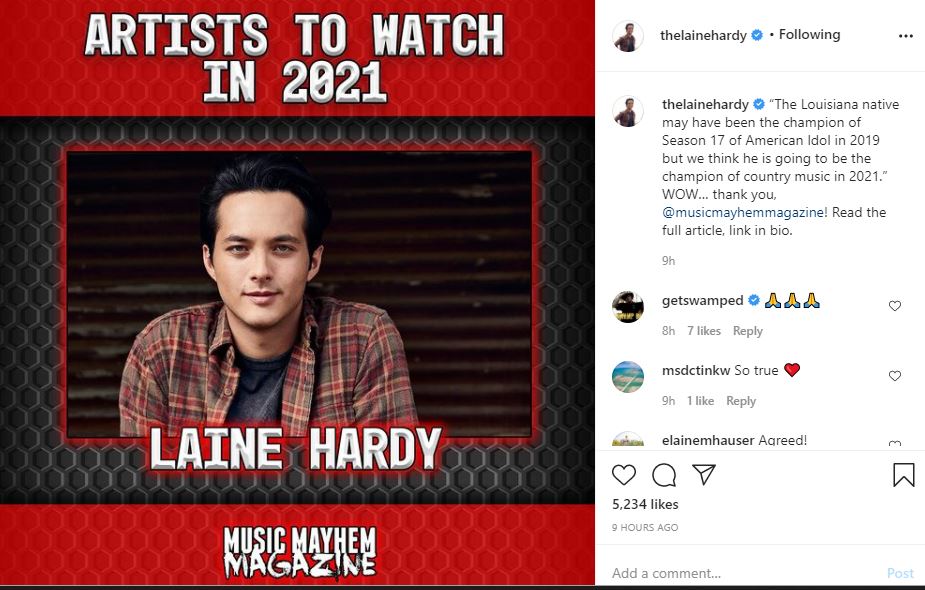 Louisiana boy's in good company
Laine's not alone on the outlet's list of "Artists to Watch in 20101." In good company, other up-and-coming talent included Ryan Griffin. His pop country style took off in 2020 when he released "His EP, Name On It." Plus, The Voice contestant, Ashland Craft brings one-of-a-kind vocals that saw her rise in popularity, as well. Plus, Parker McCollum's "debut EP, Hollywood Gold, was named the highest-selling debut EP of 2020."
Certainly, Laine Hardy seems set for a bright 2021. Do you agree he might be the "Champion of Country Music " in 2021? Sound off your thoughts in the comments below.