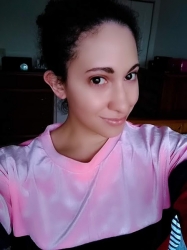 Latest posts by Chanel Adams
(see all)
Like the rest of us, Reba McEntire can't wait for 2020 to end. Back in October, she revealed that she was dating again after her divorce. The legendary singer found love with her new boyfriend Rex Linn. The couple even made their relationship Instagram official.
She can't wait to celebrate the new year with him. On Sunday, December 27, the 65-year-old shared a selfie of herself with her donkey Poncho. She joked that Poncho wanted her to share the photo, after finding out that the couple took a photo with her chicken, Mr. Pecker, in October.
Country superstar talks about "booger bear" of year
Reba McEntire shared another funny post. Two days before her recent photo with Rex Linn and Poncho, she shared a video message with her followers. In the caption, she wrote: "Merry Christmas and Happy New Year!"
"Hi everyone, Reba here, I just wanted to say merry Christmas and happy New Year to all of you," the "Fancy" singer said in the clip. "Please stay safe and healthy so we can all get together in 2021."
Then, Reba called 2020 "a booger bear of a year." It's a common phrase used in the South to describe difficult and hard situations.
"I'm very thankful and grateful we got through it," she continued. "It's coming to a close and we can start looking forward and thinking positively for the next year."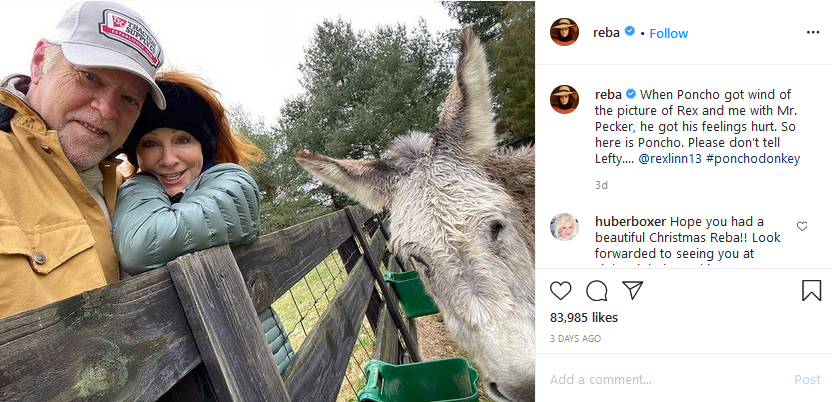 "I love you very much and thank you for everything – your support, your love, your prayers, your comments, everything," Reba concluded her video message. "I love you. Take care of yourself, pretty please."
Reba first talked about her relationship on her Living & Learning podcast in October. She talked about their first date in January, in which she described Rex as "very interesting, very funny [and] very smart." Since then, the couple kept in touch virtually amid the coronavirus pandemic.
The couple lovingly calls each other "Tater Tot" and "Sugar Tot." Reba and Rex made their red carpet debut at the CMA Awards last month. The one thing she loves about Rex is that she can talk to him about anything. Both of them support each other's respective careers.
Reba McEntire shares wisdom for 2021
The country star has had much success. Despite the challenging year, she's still working on new music, in talks about a new TV show, and connecting with her fans on social media. Per Southern Living, Reba McEntire shared one of her childhood lessons. She was taught about "working hard and taking direction."
She also makes time to connect. When Reba found out about a young fan who was in the hospital after a spinal cord injury, she reached out and FaceTimed Aspen Allen. By taking time out of her busy schedule, Reba made the fan feel special during this difficult time. These are two lessons we could use moving forward.