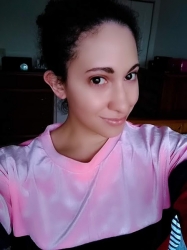 Latest posts by Chanel Adams
(see all)
Miranda Lambert has a new look just in time for the New Year. And her selfie is super relatable. The "Bluebird" singer took to her Instagram Stories to debut her new look. Check out the photo below.
The Country superstar gets a makeover
On Sunday, January 10, the "Little Red Wagon" songstress shared a new selfie on her Instagram Stories. In the photo, the blonde beauty showed off her freshly chopped locks. She rocked a short bob with her hair styled in waves. She wore a slight smile on her face as she rocked a sweatshirt that read "Happy" on it.
In the post, Miranda Lambert credited hairstylist Leah Hoffman. The Nashville-based colorist, educator, and extension specialist works at Parlour & Juke. She has plenty of happy celebrity clients, including Miranda herself. Some of her specialties include balayage, blonding, haircuts, highlights, extensions, and vivid colors.
You can tell that Miranda has beautiful vivid colors and highlights in her latest post. But that's not all. She also credited Nashville LASH for her new false eyelashes. The premiere lash extension studio specializes in eyelash extensions, which are custom-made for every client.
Miranda posed in front of her glistening Christmas tree in the photo. She captioned the photo: "Yes I still have the tree up," along with the shrugging and Christmas tree emojis. Her post was very relatable. The Nashville Star alum also rocked a makeup-free look, even though she used the Starlight filter. Regardless, she looked just as beautiful as ever.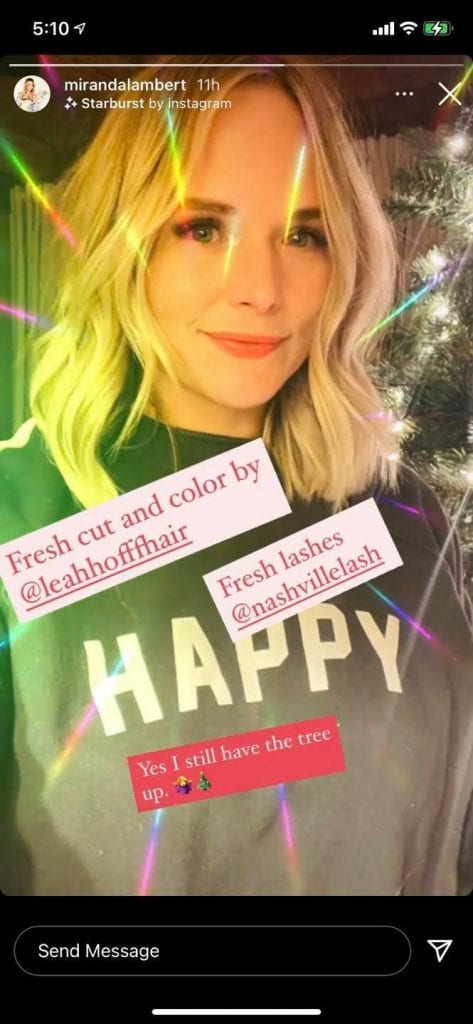 Miranda Lambert ventured into a new music genre
She is just one of the many artists featured on Barry Gibb's new album, Greenfields: The Gibb Brothers Songbook, Vol. 1. Miranda Lambert appeared on the new version of the Bee Gees' classic hit "Jive Talkin" with Rival Sons frontman Jay Buchanan. Keep in mind this new version won't have you moving as much. It's much more slower-paced than the original disco track.
All three voices are heavily featured on this track. You can hear each of their distinct voices. The new version of "Jive Talkin" should satisfy those who loved the original from the blockbuster 1977 Saturday Night Fever soundtrack. The trio comes together for their three-part harmonies in the choruses, but Miranda leads the way with the "you're tellin' me lies" line.
It's one of the few contributions that the singer's made since her 2019 release. She also appeared on Luke Dick's recently-released song "Polyester," which is also reminiscent of the 1970s.
While Miranda hasn't released new music, she's earned plenty of accolades. "Bluebird" was nominated for Best Country Solo Performance and Best Country Song at the 2021 Grammy Awards, where Wildcard is nominated is for Best Country Album. Miranda wrote the track alongside Dick and Natalie Hemby.
What do you think of Miranda's new look? Sound off below in the comments.