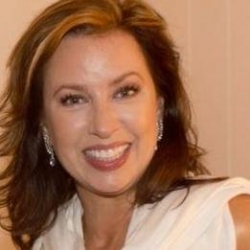 Latest posts by April Neale
(see all)
Nashville hot spot L.A. Jackson is getting Super Bowl fans salivating ahead of game day. Super Bowl 55 will be played on Sunday, February 7, 2021 after the conclusion of the 2020-2021 NFL regular season.
And since it is right around the corner, Nashville's fun L.A. Jackson sent Country Music Alley these easy-to-make tailgate-at-home recipes
The owners Brian and Emery wanted to share the easy to make at home tidbits and drink recipes you can batch out and scale the serving size as you need.  The rooftop restaurant is still going strong despite COVID workarounds and new restrictions put in place to keep staff and diners safe.
So many folks are entertaining safely at home for the Super Bowl, where tantalizing small bites are always the MVPs, that they wanted to share their most popular game day recipes:
Large Format Cocktail & Pork Poppers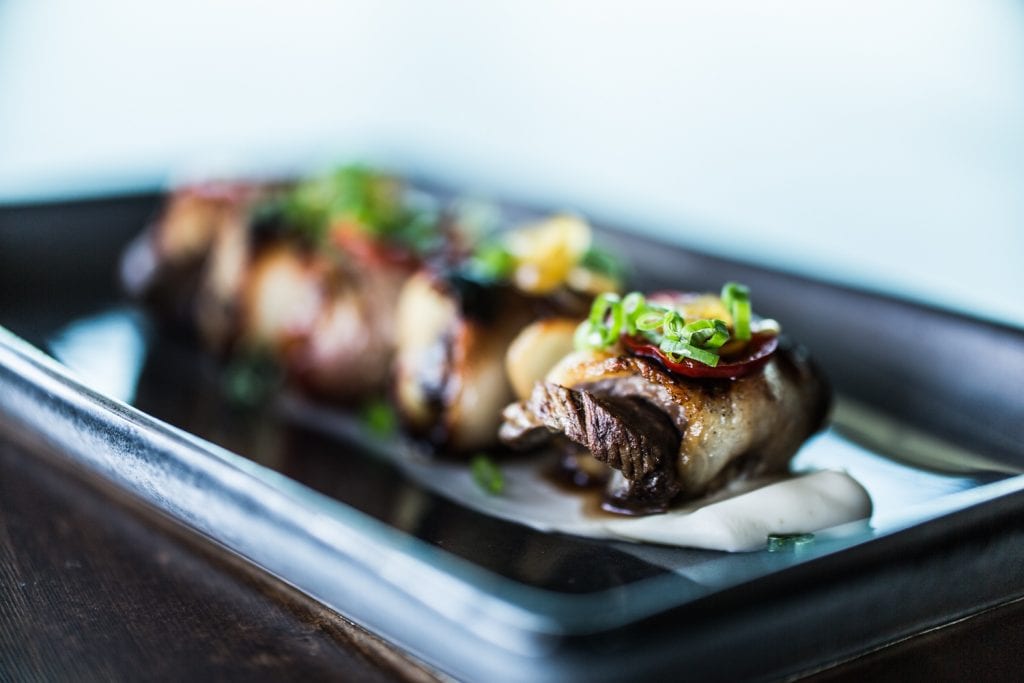 Pork Poppers
Serves 4
1 ½ lbs pork tenderloin
¼ cup creole seasoning
3 each pickled jalapeños, sliced thin
10 strips thick cut smoked bacon
4 ounces cream cheese
1 tablespoon fresh thyme, chopped
1 tablespoon fresh parsley, chopped
salt & pepper
6 ounces cane syrup
6 ounces sherry or balsamic vinegar
MOP:
1. Rub the pork tenderloin with creole seasoning.
2. Sear the tenderloin in a minimal amount of oil in a cast iron skillet just until a crust forms.
3. Place the tenderloin in the refrigerator, then cut into ¼" by 2" strips
4. Wrap each piece of pork tenderloin around a slice of pickled jalapeño, then wrap a piece of bacon around the pork.
5. Skewer the poppers with a bamboo skewer.
6. Allow the cream cheese to soften at room temperature.
7. Once soft, mix in the herbs and season with salt and pepper.
8. Add the cane syrup and vinegar to a small sauce pot.
9. Reduce the syrup vinegar mix by half.
10. Grill the skewers of poppers until the bacon is crispy and slightly charred.
11. Smear some of the cream cheese in a line on a plate.
12. Remove the poppers from the skewer and place on top of the cream cheese.
13. Drizzle some of the cane syrup over the poppers. Serve and enjoy!
Deviled Shrimp Dip – L.A. Jackson style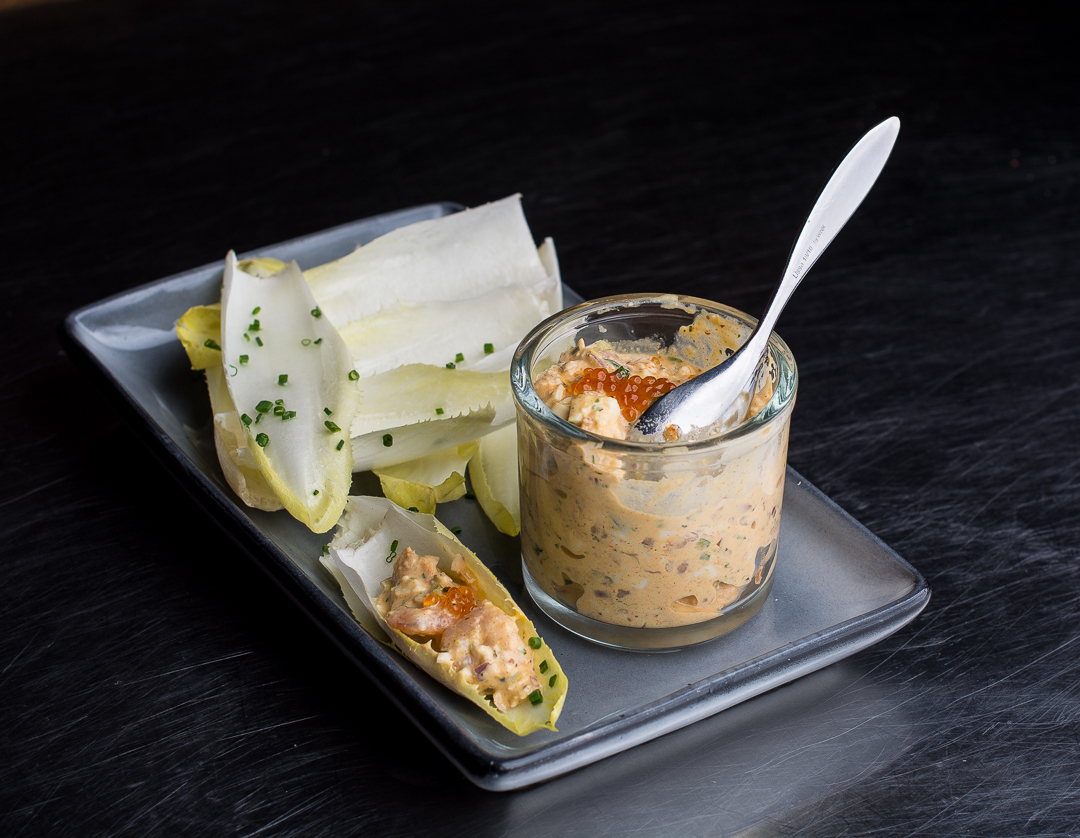 Deviled Shrimp Dip
Yield 3 Quarts or 15 Portions (You can halve or double this recipe easily)
2.5 lbs. shrimp – boiled
18 Eggs
1 cup Mayonnaise
1/4 cup Creole Mustard
1/4 cup Dijon Mustard
1/2 cup Capers, drained
3 ea Celery, stalks small-diced
1 ea Red Onion, small-diced
1 tsp. Cayenne Pepper
1 tsp. Paprika
1/2 Tbsp. Sriracha
1/2 Tbsp. Crystal Hot Sauce
1 Tbsp. Parsley, minced
To Taste Salt
To Taste Black Pepper, ground
Optional fish roe and scallions for garnish
Endive or crackers for serving
METHOD:
Hard boil the eggs. Once the eggs are cool, peel them and separate the whites from the yolks. Puree the yolks, mayonnaise, and two mustards in the food processor.
Dice the egg whites. Place the egg whites, shrimp and the remaining ingredients in a stainless steel mixing bowl.
Fold half of the yolk mixture into the shrimp and egg whites.
Continue to add yolk mixture until the shrimp and egg whites are generously coated (there should be some yolk mixture left over).
Taste to check Seasoning. Label properly and refrigerate. (Shelf life is 4-days maximum)
The "EPC" Cocktail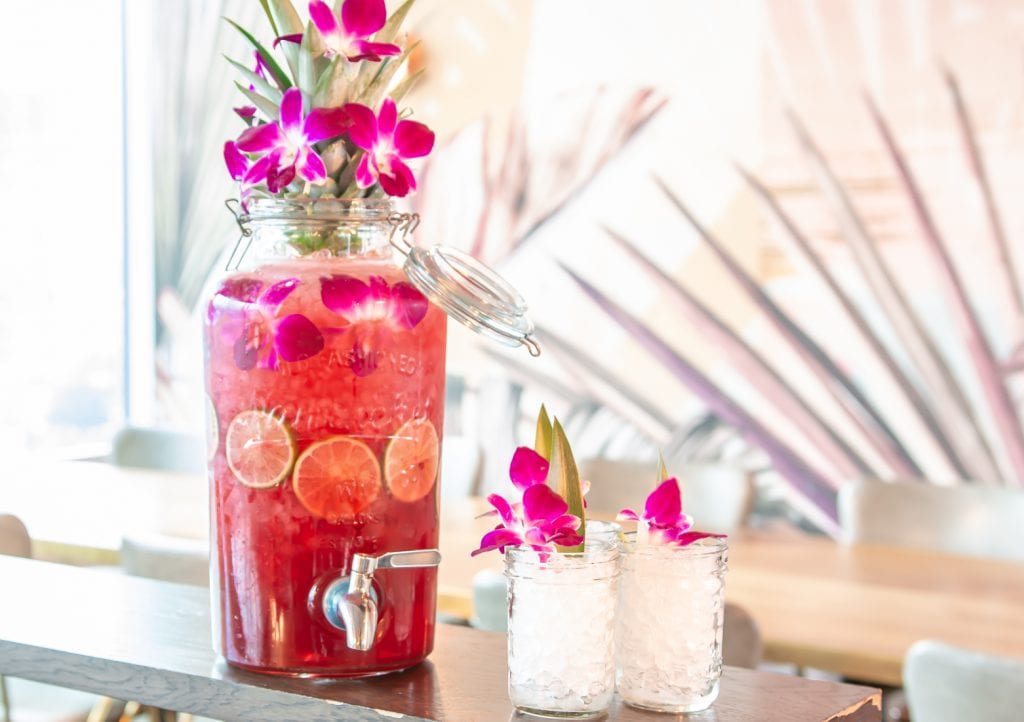 E.P.C. (Large Format)
Yields: 10-12 Cocktails (You can halve or double this recipe easily)
E.P.C. Large Format cocktail is a lovely punch styled drink. It stands for Equal Parts Cocktail. The at-home bartender can make this in any gallon container of their choice.
7 oz Rum
7 oz Aperol
7 oz Strawberry Syrup
7 oz Lime Juice
7 oz Pineapple Juice
Method:
1. Fill a one gallon container with ice
2. Pour liquor into a pitch and stir. Pour over ice in large container.
3. Garnish with sliced fruit and berries and pineapple fronds. We like to top this drink with the bottom of a hallowed pineapple and light the pineapple on fire as we service it. Don't try this at home – visit us on the rooftop for the show!
Strawberry Syrup –
2 lbs strawberries, sliced
4 cups water
2 cups sugar
Method:
1. Place strawberries in a pot over medium heat. Cover with water and bring to a boil. Reduce to a simmer and let strawberries cook for about 20 minutes. Foam may rise to the top – that's normal, skim it off.
2. Strain strawberry liquid through a mesh strainer into another pot, separating the solids and the liquids. Do not press down on the solids.
3. Add the 2 cups of sugar to the strawberry liquid and bring back to a boil, stirring frequently to dissolve the sugar into the syrup. Let simmer for 5 minutes until the sugar is completely dissolved.
4. Remove from heat and allow to cool completely. Syrup will stay for several weeks in a sealed container.
About L.A. Jackson
At L.A. Jackson, the rooftop bar at Thompson Nashville hotel, large format cocktails are popular like the E.P.C. listed above.
They also shared the pork poppers, made with pork tenderloin, bacon, cream cheese and herbs. These poppers are a real crowd pleaser and perfect game day snack.
The restaurant is part of a small group of artisan restaurants owned by QED Hospitality Brian Landry and Emery Whalen and are located in New Orleans and Nashville.
Super Bowl intel
Super Bowl Opening Night will take place virtually in 2021 on February 1, 2021. This event marks the kickoff of Super Bowl week to the nation. It is the first public appearance by Super Bowl players and coaches.
Super Bowl LV will be played at Raymond James Stadium in Tampa, Florida on February 7, 2021.
Super Bowl Experience will be held at several parks along the 2.7 Tampa Riverwalk from Friday, January 29 – Sunday, January 31 and Wednesday, February 3 – Saturday, February 6.