Fans have enjoyed seeing some of the sights from the road trip Miranda Lambert and her husband, Brendan McLoughlin, are on. Luckily for fans, Lambert chronicles the trip from her Airstream trailer named "The Sheriff" on her Instagram feed. While most fans have nothing but pleasant things to say, it appears that the "Bluebird" singer gets a "daily dose of Judgy."
Recap on Miranda Lambert's Road Trip So Far
Country Music Alley recently reports that Miranda Lambert and Brendan McLoughlin are on a road trip. It seems that their first stop along the way was to Asheville, North Carolina. While the couple was there, they took in the sights of the beautiful Biltmore Estate. Unfortunately, one of their pups "blew out her back" and had to be seen by MedVet. Luckily, it seems that everything is well, as Lambert goes on to recognize The Moose Café. Not only does the café have biscuits "as big as your head" but Lambert and her hubby had a great waitress.
Miranda Lambert Misses Charleston, South Carolina
According to the songtress' Instagram, the next stop on her road trip was to Charleston, South Carolina. Earlier today (February 3rd) she shares a set of ten photos from her time in the Holy City. She begins this post by thanking Halls Chop House for the "most delicious Sunday brunch and Gospel music." Next, Lambert shouts out to Harken Café and provides fans with her breakfast recommendation. "Spiced vanilla latte with oat milk and avocado toast for the win," shares the Country star.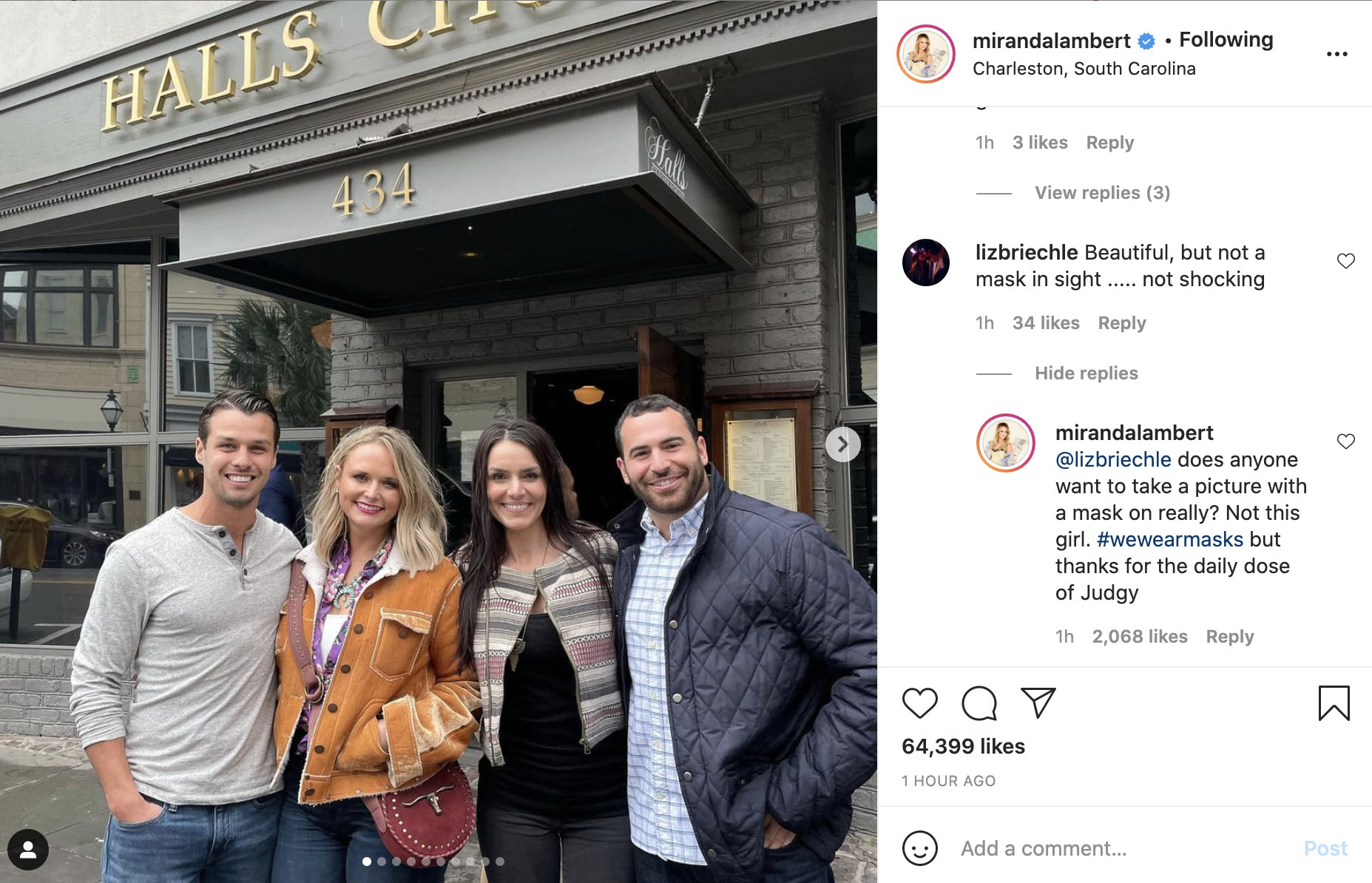 Further detailing her three days in Charleston, Miranda Lambert recognizes her tour guide, Joyce Weir, from the half-day Tours by Locals that she went on. Singing Weir's praises she writes, "She was fun, charismatic and super knowledgeable about the history of Charleston." And while Lambert acknowledges three days in the Holy City isn't enough, she does seem to get a kick out of one of the signs at their campsite. Apparent, "alligators may live here."
The "Mama's Broken Heart" Singer Gets COVID Shamed
Maybe at a different time, it wouldn't matter so much, but something sticks out about Miranda Lambert's photos. In this set of road trip pictures, no one is wearing a mask. And it doesn't go unnoticed. One follower writes, "Beautiful, but not a mask in sight….. not shocking." Fans of Lambert's know she has a feisty side, so she responds. "Does anyone want to take a picture with a mask on really? Not this girl. #wewearmasks but thanks for the daily does of Judgy," writes the singer-songwriter.
What do you think about Miranda Lambert's road trip so far? Do you think people should wear masks while taking pictures? Let us know in the comment section below. Come back to Country Music Alley for more news about your favorite Country stars.