Taste of Country recently reports that Miranda Lambert and her husband, Brendan McLoughlin went on a road trip. The article uses the phrase "on the road again" but cautions fans not to get too excited. Unfortunately, the "Bluebird" singer isn't currently on tour due to the ongoing coronavirus pandemic. Instead, the Country star and her hubby hit the road in an Airstream trailer they've dubbed "The Sheriff."
Miranda Lambert Sees the Country from an Airstream Trailer Named "The Sheriff"
Luckily for fans, the duo shares moments from their trip on Instagram. It seems that one of their stops along the way is in Asheville, North Carolina. Surprisingly, Taste of Country states that Miranda Lambert has never been to Asheville before. Not surprisingly, a lot of the photos from their time there are from their visit to the Biltmore Estate. "You can feel the history and heart that was put into that property as soon as you step foot on the grounds," writes the "Mama's Broken Heart Singer."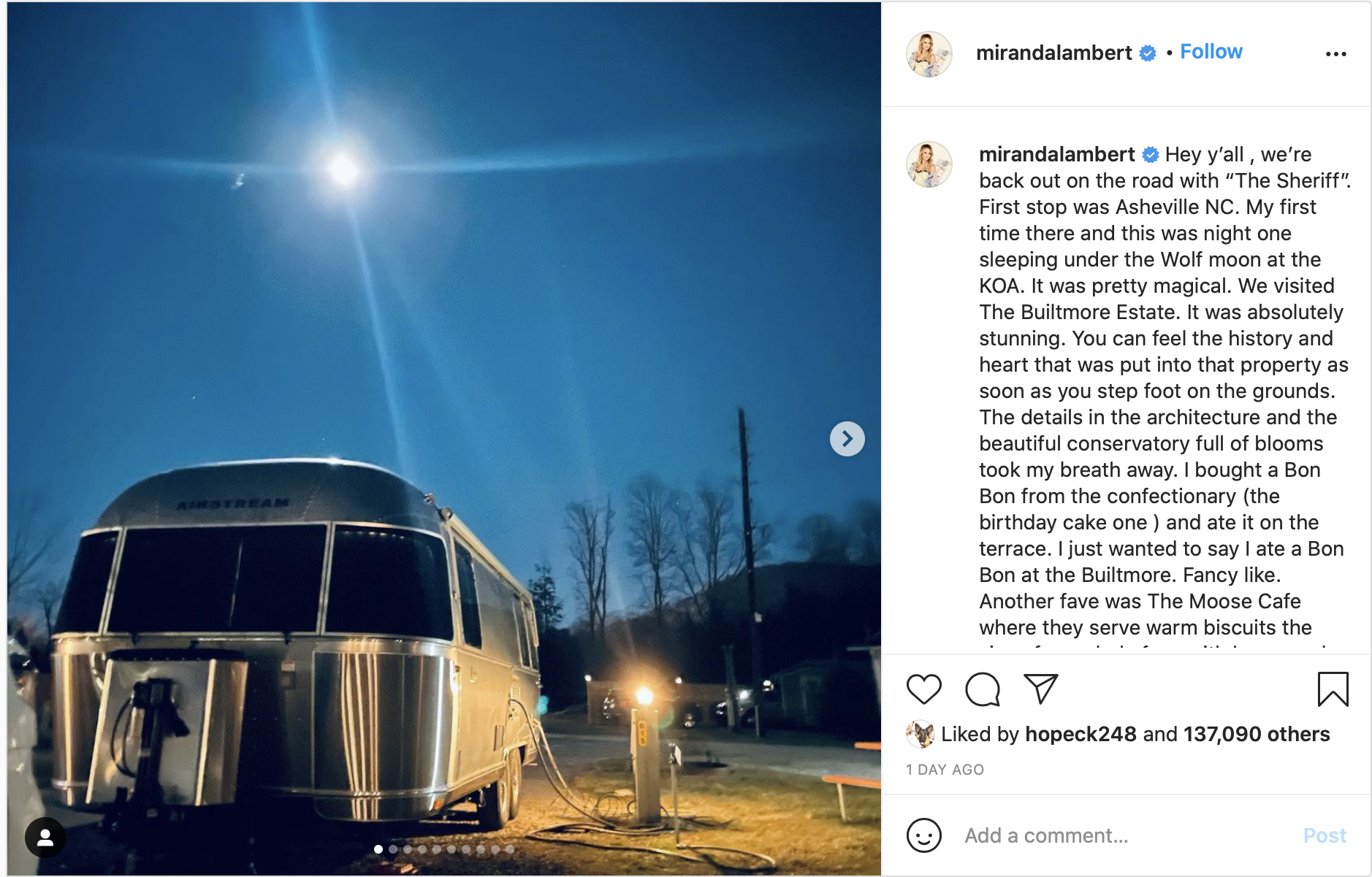 It seems that it isn't a road trip without mishaps. Miranda Lambert and Brendan McLoughlin brought their dogs with them. Unfortunately, Delta Dawn hurt her back. Luckily, the pup was well taken care of. The Country star gives a shout out to MedVet Asheville for "taking such good care of [Delta Dawn]."
Lambert Gives Shout-Outs to Asheville Businesses
While in Asheville, Miranda Lambert and her hubby dined at some local favorites. On her Instagram post, she shares about the biscuits and apple butter at The Moose Cafe. She writes, "Another fave was The Moose Cafe where they serve warm biscuits the size of my whole face with homemade apple butter and we had the sweetest waitress," shares Lambert.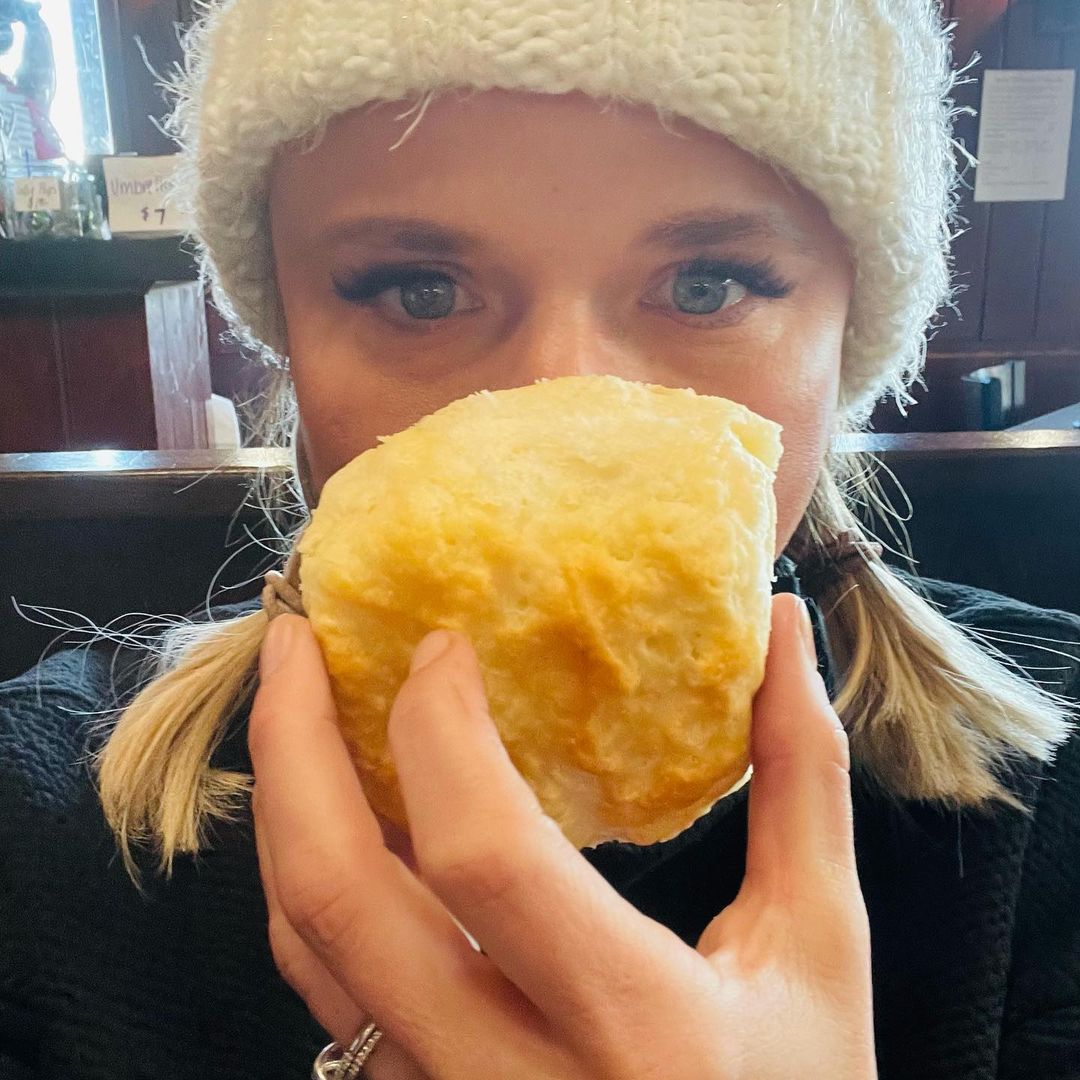 You'd think such an inconspicuous shoutout to "the sweetest waitress" would go unnoticed in today's society. However, that's not the case. An Ashville ABC news affiliate WLOS tracks down the waitress the served the "Gunpowder & Lead" singer.
What Does the Star's Waitress Have to Say?
According to her interview, Inger Buchanan didn't recognize the songstress at first. She tells the news outlet, "When I was fixing her drinks, I thought, I know her from somewhere."  When she got to the table she says, "you look a lot like Miranda Lambert." Apparently, Lambert plays it cool and responds with, "I get that a lot."
Fans may remember that Miranda Lambert bought "The Sheriff" back in May of 2020. Presumably, one of the deciding factors about getting the trailer is that it made a great alternative to staying at home in the wake of the coronavirus. That month, she and Brendan embark on what seems to be the first of many road trips in the Airstream trailer.
Travel May Inspire Miranda for New Music
It seems that with her recent travels, Miranda Lambert has found a new sense of what it means to see the world. She shares, "I've been touring for 19 years and most times we just roll in, play our show, and roll to the next town." However, these road trips are different. She shares, "I'll be pulling this rig all over the country." Additionally, she explains, "I know that seeing the world through the windshield again will bring creative vibes."
Where do you think Miranda Lambert will stop next with her Airstream trailer? Do you think these road trips will inspire new music? Let us know in the comment section below. Come back to Country Music Alley for more news about your favorite Country stars.