Ryan Hurd announced via Instagram Stories this week that he and Maren Morris will be releasing their first official duet together. The song titled "Chasing After You" is the first complete collaboration the country music couple have done together. The details about the duet are sparse, but the teaser clip does show the couple singing in perfect harmony. The clip highlights Ryan and Maren's relationship through photos and videos playing as the couple sing.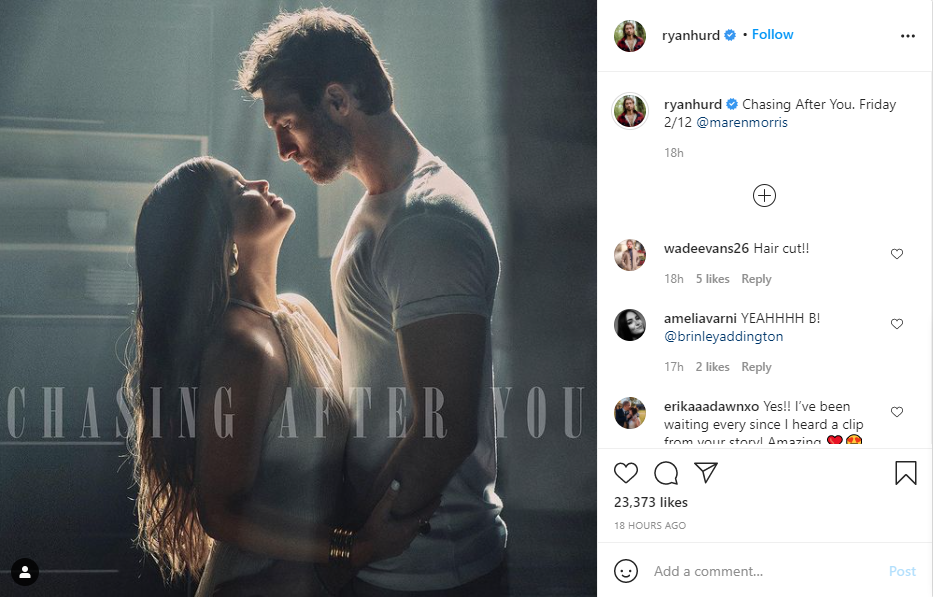 Ryan Hurd and Maren Morris relationship
Ryan and Maren met in 2013 when they were both budding songwriters in Nashville. The two were put together for a studio writing session and the musical chemistry was undeniable. During that first session, the pair wrote 'Last Turn Home,' which was later recorded by Tim McGraw for his Sundown Heaven Town album. Maren described that first session as the beginning of a "wonderful writing relationship."
"It's one of my favorite songs that we've ever been a part of. It's just crazy to look back on that moment where we were both just songwriters, solely, and that song has held so much weight over the years."
The lyrics to the song became even more poignant and almost prophetic after Maren and Ryan started dating. "The meaning behind the song actually means more now to me and Ryan, in a weird way — years later, it sort of hit us what the song means."
But the couple did not start dating right away. Instead, they developed their friendship and simply got to know each other better over the next few years. Until their writing chemistry turned into undeniable personal chemistry that neither Ryan nor Maren wanted to deny or avoid.
The couple wrote many songs together over the years, but they have never merged their singing careers until now. "Maren and I met writing songs and we've sung on each other's records and written together, but this is the first time we've gotten to do an actual duet together."
The perfect song
Ryan mentioned singing on each other's records. Some songs, in particular, are Hurd's songs 'Every Other Memory' and 'We Do Us' where Maren can be heard doing background vocals. But this time both artists are front and center as they sing to each other.
The lyrics in the clip tell their story in a new way. "Every time you say we're done, you come back to the love you were running from, don't know why, don't know why I let you but I do, cause I love chasing after you."
Ryan said that this song is a special moment for him and Maren. "It feels like the timing is really perfect and it's a full-circle moment to get to make music together in this way."
The couple obviously put their 2020 downtime to exceptional use. And the year was all the more special because they had their son Hayes Andrew on March 23, 2020. A perfect anniversary gift, as Hayes arrived the day before their anniversary.
'Chasing After You' will drop on Friday, February 12.
Latest posts by Mandy Robinson
(see all)