Kelly Clarkson continues to impress fans with her "Kellyoke" segments. Recently, she covered Willie Nelson's Blue Eyes Crying in the Rain. In case you didn't know, one lucky audience member chooses which song Kelly performs at the start of her show. She got to show off her country music chops once again.
On Wednesday, February, 11, Kelly and her band Y'all performed the song. Blue Eyes Crying in the Rain appears on Willie's 1975 album, Red Headed Stranger. Many performers have covered this song over the years. Some of them include Charley Pride, Hank Williams Sr., and Johnny Russell.
Check out Kelly's version in the video below.
It's time for some country music
On Wednesday, Kelly Clarkson and her band performed their version of this Willie Nelson classic. Some fans got "goosebumps" when they heard this rendition. Her "Kellyoke" segments have made headlines in the past few weeks. She received praise for her covers of artists ranging from Aerosmith, The Beach Boys, Chris Stapleton, Demi Lovato, Jason Aldean, Kenney Rogers, among others.
Some think that Kelly could singe the telephone book and it would sound good. Also, The Kelly Clarkson Show has seen a bump in ratings as of recent. The morning show has received praise for its humor and light-hearted moments.
Over on YouTube, fans shared their thoughts on Kelly's cover. Some of them agree that she can sing anything. Here are just some of the many comments.
"Queen is killing it, as usual, and always. I hope she's doing alright."
"Goosebumps y'all. That's [sic] kind of effect Kelly's voice gives me all these years. Such a Goddess voice. What a blessed soul."
"Kelly can sing anything! For me, Kelly is with the Best of the Best top 5 singers."
"So beautiful for two reasons! First of all, it is Kelly Clarkson and second of all it's a song from Willie Nelson who is also texas best along with Texas best K.C."
"I need this on Spotify as soon as humanly possible. Please and thank you."
"I love this song so much and I love how she captured the softness of the song xx."
Kelly Clarkson covers Cardigan's "Lovefool"
Kelly Clarkson also showed off her soft side during the week of love. She previously announced that she's celebrating singles awareness week leading up to Valentine's Day. She previously performed Cardigan's 1996 hit song Lovefool on Tuesday, February 9.
For her version, Kelly stood at the microphone with her trademark purple lights shining down on her and her band. She stuck to the original version before she heads into the song. But she didn't let her powerhouse vocals overpower the song. Instead, she made it all her own.
Of course, Kelly's fans were in love with her cover of the song from the Swedish band.
"Oh here she is again… singing like she owns the song… love you kelly."
"Never knew this song could be covered and sounded as cool as this. I'm lovin' it!"
"A classic singing a classic."
"Here goes Kelly again stealing my heart and singing like the goddess that she is. I just keep falling inlove. 🌻❤️🥺🔥"
"I really thought that this song AGED pretty bad that's why I stopped listening to it. But, just now, listening to Kelly sing it again, I realized how wonderful and awesome Lovefool is. It really is a CLASSIC."
As fans know, Kelly is in the midst of her divorce from Brandon Blackstock. But it's not the first time that she's sung a sad song. She previously covered Another Sad Love Song by Toni Braxton. She also revisited the '90s last month when she covered Soul Asylum's Runaway Train.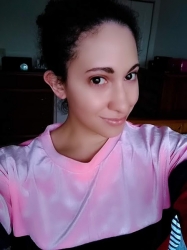 Latest posts by Chanel Adams
(see all)