After five years of dating (and winning the heart of America), Blake Shelton and Gwen Stefani are finally engaged. America grew to adore the couple by watching their relationship blossom on The Voice. 
Since then, they've sung together in several songs. Also, they were featured in a Super Bowl commercial. One of the few things left for the couple to accomplish is setting a date and getting down the aisle. Once the date is set, Shelton has a goal to lose ten pounds before getting married.
Gwen Stefani Shares Sweet Sentiment with Blake Shelton
Like many others, Blake Shelton and Gwen Stefani recently celebrate Valentine's Day. However, this most recent Valentine's Day is their first Valentine's as an engaged couple. Luckily for fans, Stefani shares some sweet sentiments for her future hubby on her Instagram. Shelton gave Stefani flowers for the holiday. Consequently, Stefani takes to her Instagram Story to share her gratitude. She captions a photo with, "Happy Valentines!! Thank u @blakeshelton for loving me."
This sweet sentiment comes after Blake Shelton shares some interesting news with Stephen Colbert. Shelton shares that he's surprised by his own engagement. Taste of Country says he's "not shy in admitting the fact that he's floored that the rugged country singer ended up with the glamorous pop superstar." However, since fans have a front-row seat to the couple's love story, aren't shocked at all.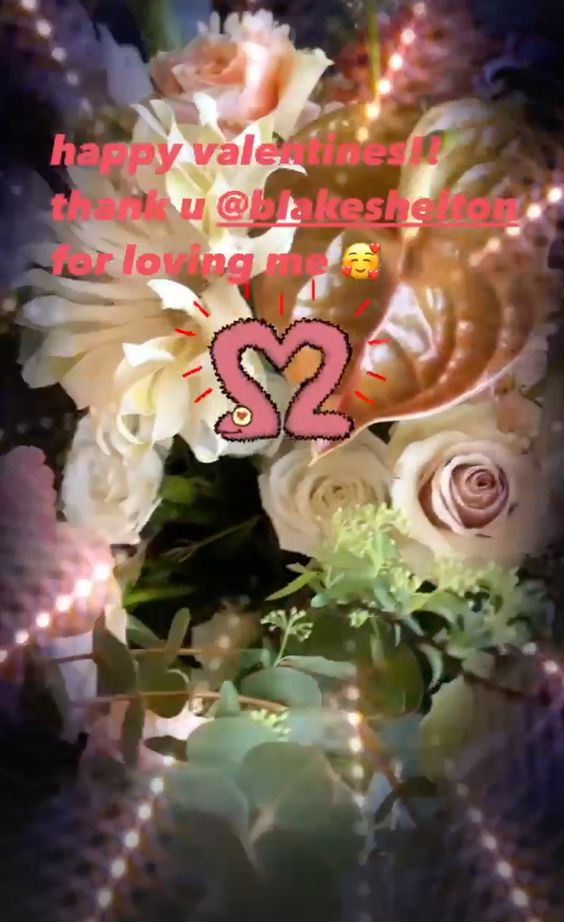 More Valentine's Festivities from Stefani
Additionally, a sweet Instagram Story isn't the only thing Gwen Stefani shares in the celebration of Valentine's Day. Her three most recent photos are photos from her recent Wonderland photo shoot. The first photo depicts Stefani in a fuschia dress and fishnets while shooting a sultry look at the camera. The next photo is Stefani looking fierce in a black and white dress. Lastly, Stefani holds a balloon heart and while giving the camera a kissy face. For all the photos, Stefani credits photographer Ellen von Unwerth.
The photoshoot seems especially fitting coming off the heels of a recent YouTube video. In the video, Gwen Stefani breaks down the meaning of her latest single, "Let Me Reintroduce Myself." Ultimately, it seems that the overall message for the single is "I'm still here." Not only is she still here, but she shares that she "still has the desire to want to engage."
Are Blake Shelton and Gwen Stefani couple goals for you? Let us know in the comment section below. Come back to Country Music Alley for more news about your favorite Country stars.