Blake Shelton popped the question to Gwen Stefani in October 2020. The couple is one of the unlikeliest pairings in Hollywood. People are still wondering how the two ended up together. But it was clear that Gwen and Blake were going through their respective divorces when they were on The Voice together.
Sometimes love happens when you least expect it. On Sunday night, the duo appeared in a new Super Bowl ad for T-Mobile. It explains how they got together. Blake has his friend Adam Levine and spotty cell phone service to thank for it. He ended up with the woman of his dreams.
Gwen Stefani rejects Blake in new Super Bowl ad
Adam Levine makes an appearance in the new commercial that shows the struggle of having terrible cell phone service. The former The Voice coach talks to Gwen Stefani over video chat in a diner. She tells the Maroon 5 singer that she's tired of L.A. men. But all he can hear is that she wants someone "completely country," "uncultured," and is "threatened by a strong, confident woman."
"I have your guy," Adam says as Blake walks over to the table. He's a little too excited about "wings and nachos!"
The singer ends up playing matchmaker. Next, Gwen and Blake end up on a blind date together. The two are surprised to see each other in the same restaurant.
"Blake!" Um. Hilarious, right?" Gwen says. "I mean, no?"
"What do you mean?" Blake asks.
"Are you wearing spurs? Did you ride a horse here?" the No Doubt singer joked before Blake added, "Yeah!"
T-Mobile's voiceover then says, "Don't trust your love life to just any network." And then, Blake offers Gwen a ride home. As fans know, the rest is history. The couple found love on the set of The Voice in 2015. There, they bonded over their heartbreak and respective divorces from Miranda Lambert and Gavin Rossdale.
Unlikely couple has been dating for a while
At first, news of Gwen Stefani and Blake Shelton's relationship seemed like a PR stunt for the NBC singing competition. Fans were skeptical – especially with their over-the-top gestures and PDA. But the couple ended up dating for several years before Blake finally put a ring on it. Also, Gwen waited a long time for the Catholic Church to annul her previous marriage to the Bush frontman.
Like most couples who fall in love, they wanted to seal the deal right away. But the "Let Me Reintroduce Myself" singer knew they had to take their time. She shared their journey leading up to their engagement in a recent interview.
"I think there was a lot to consider when you have so many people involved. Children, and their hearts, and everybody in my family [and] his family, we all went through together," Gwen said on Today in January. "So I think in a romantic way, when you fall in love so hard and so unexpectedly — and so late in your life — you think 'I want to marry you!' That's the first romantic reaction, like, 'Let's get married.'"
Instead, the couple waited. They wanted to see where their relationship took them before making any moves. Blake and Gwen knew they had to consider the feelings of her two sons as well as their families. She admits there was "a lot of healing to do" before taking the next step in their relationship.
What are your thoughts on Blake and Gwen's Super Bowl ad? Sound off below in the comments.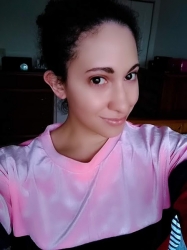 Latest posts by Chanel Adams
(see all)