In 2019 Miranda Lambert nearly broke the internet when she announced her marriage to her new husband, Brendan McLoughlin. At the time, the only information readily available about the man was that he is a NYPD officer.
Why Did Miranda Lambert Keep Her Husband a Secret?
Miranda Lambert found another forever love just four years after her divorce from Blake Shelton. Notably, before marrying Brendan McLoughlin, the Country songstress is linked to Anderson East and Evan Felker. East and Lambert went their separate ways in April 2018. And Felker and Lambert split in April 2018.
Taking fans by surprise, she announces her marriage in 2019. Things seem to be going well with her husband, Brendan McLoughlin. According to Country Fancast, McLoughlin left the NYPD. The couple has been living together on Lambert's Tennessee farm since the wedding announcement.
However, there seems to be a reason for all the secrecy. Country Fancast shares Lambert's logic. "I was married before, and it was a huge wedding and everything was very public." Lambert goes on to say, "So was my divorce." However, the pain and suffering weren't without a lesson. "I learned then that it's not for everybody else. This is my actual life. With Brendan, I made it a point to keep it as private as I could for as long as I could."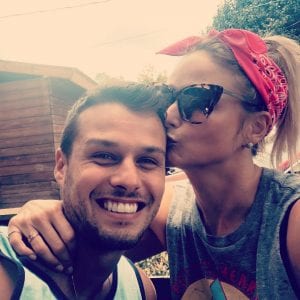 Lambert and McLoughlin Like to Travel, but How Did They Meet?
Additionally, fans have enjoyed following the couple on their road trip. Miranda Lambert recently chronicles a road trip with her husband on Instagram. The duo goes to Asheville, North Carolina, Charleston, South Carolina, and Greensboro, Georgia. This is all before a hit-and-run accident sends them home to Nashville, Tennessee sooner than anticipated.
So how did the couple meet? According to Country Living, Brendan McLoughlin met Miranda Lambert while he was at work. Lambert was a guest on Good Morning America with her band, The Pistol Annies. Lambert gives some insight in an interview with the New York Times. "My husband was doing security there for the show. My girlfriends, the Annies saw him and knew I might be ready to hang out with someone." It seems that the rest may be history. "They invited him to ur show behind my back."
Brendan McLouglin is a Dad
Surprisingly, Miranda Lambert's husband, Brendan McLoughlin is a father. He has a young son. At the time of his marriage to Lambert, his son was a year old. And assumably, Lambert loves being a stepmom. She shares her excitement with People. "My stepson is amazing." Interestingly enough, Lambert compares parenting to raising dogs. "I'm loving that whole phase, and I've raised a million dogs, so I feel like I've got that part of my womanly/motherly thing is full, so this is a whole new journey. It's great."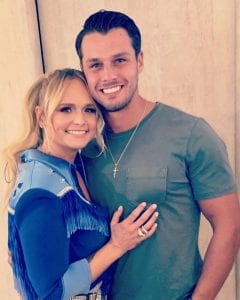 Fans may not realize there's an eight-year age difference between the lovebirds. Lambert is 8 years her husband's senior. Another fun fact about Lambert and McLoughlin is that they're both affiliated with law enforcement. Lambert's pops Rick was a homicide-and-narcotics cop in Dallas. He goes on to own a detective agency with her mom, Bev.
The couple recently celebrated their second wedding anniversary. And Lambert's husband has been making a lot of appearances on her Instagram lately. Thus sparking a lot of questions about who the man is that stole the "Bluebird" singer's heart.
Are you excited for Miranda Lambert and Brendan McLoughlin? Let us know in the comment section below. Come back to Country Music Alley for more news about your favorite Country stars.