Latest posts by Mandy Robinson
(see all)
2006 American Idol runner-up, Katharine McPhee, is described as the 'WORST' nanny ever in the new Netflix series, Country Comfort.
Read on to get all the details about the upcoming sitcom that People has dubbed, "Nashville Meets the Nanny."
Katharine McPhee Steps Back On The Stage for 'Country Comfort'
Since her run on  American Idol back in 2006, Katharine McPhee has been a busy girl. The former talent contestant has a long list of notable industry accomplishments. Her personal discography includes 5 full-length studio albums. In addition to her expansive music library, the 36-year-old performer has a number of acting credits under her belt, including her role in the 2008 romcom, House Bunny and her leading role in the hit musical television series SMASH back in 2012.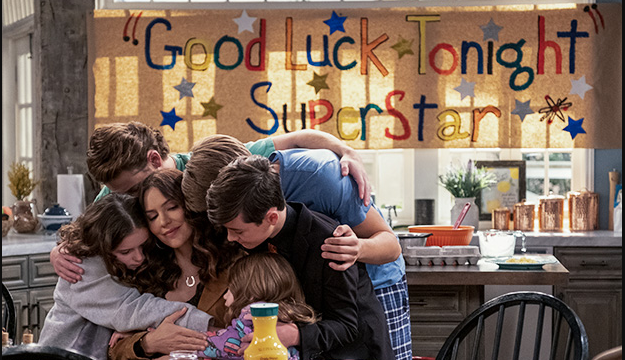 These days, in addition to preparing for the upcoming birth of her first child with her husband, David Foster, Kat is also awaiting the release of another baby, her latest series, Country Comfort. The new series is set to debut on Netflix toward the end of March.
What is 'Country Comfort' About?
According to Today, The series will feature Katharine McPhee as an aspiring country singer whose career just isn't panning out. Through a series of happy accidents, Bailey (McPhee) ends up working as a nanny for a father-of-five named Beau, played by Eddie Cibrian.
The family, which includes children of varying ages, is still learning to get along without their mother. The show trailer tells us that she passed away just under two years before Bailey finds the family. Dad has apparently been trying to find someone to help take care of the kids and unfortunately, they have run through a number of Nannies, none of whom were a good fit.
The official Netflix press release on Country Comfort describes Bailey as a character that has the 'can do' spirit.  The release describes Bailey as having "a lot of Southern Charm," and insinuates that she meshes easily into this unique family dynamic.
All About the Music
Like every project that Katharine McPhee works on, this one also has a large musical component. This show isn't just about a "down and out musician" who finds themselves down another path. This 'down and out' musician finds another path that leads them back to music in a fun way.
Today reveals that as McPhee's character acclimates to caring for this family, the family ends up having musical talents of their own. As Bailey uses her talents to help the kids,  her interactions with her charges eventually inspire her to keep working on her own musical journey.
On a fun note, the latest trailer promises us some fun musical interludes in addition to celebrity cameos from Leann Rimes and Eddie Balfour.
Are you excited about this modern-day 'Nanny McPhee?' We cant wait to see this show when it drops on March 19th! Check out the trailer above and let us know what you think!
Stay tuned to Country Music Alley for all the latest on your favorite Country artists and industry news.