Loretta Lynn was all about Girl Power before Girl Power was cool. She has been breaking boundaries in country music for over 50 years. The iconic singer is on the heels of releasing her 50th studio album. In a heartfelt tribute, she reveals how female country singers today compare to her journey to Nashville over half a century ago.
Her new album Still Woman Enough features several big names in country music. Carrie Underwood, Reba McEntire and Tanya Tucker are three hugely successful women joining voices for Loretta Lynn's new album. Relatively new country artist Margo Price helps Loretta Lynn give a new take on an old favorite, "One's On The Way." 
Loretta Lynn Sings What She Lives
When Loretta Lynn first came on the scene in Nashville, she was an outlier. Given the times, many women stayed at home, raising their babies. Well, Loretta Lynn did that, but she also pushed the limits for what was acceptable for women to do back then. 
The relatability of her songs helped her rise to country music legend status. Her hits like "Coal Miner's Daughter" and "You're Lookin' at Country" spoke to her humble beginnings. "Don't Come Home A-Drinkin'" and "You Ain't Woman Enough (to Take My Man)" revealed a fierce side at a time when women weren't supposed to be fierce. 
In a recent Instagram post, Loretta Lynn reveals her blueprint for songwriting. "I showed up in Nashville singing what I lived and all the girls understood it because they lived it, too." 
'So Proud' of Female Artists 'Doing the Same' 
Loretta Lynn seems to know the impact she's had on the next generation of singers. She paid tribute to up-and-comers like Margo Price. Loretta Lynn's Instagram post says, "I'm so proud of all the great female artists, like @missmargoprice, doing the same!"
She then promoted their new single, the first from the upcoming album. 
"One's on the Way" compares the lifestyles of the rich and famous to that of a stay-at-home mother in Topeka, Kansas. 
The lyrics name-drop high-profile celebrities at the time, including movie star Elizabeth Taylor and former First Lady Jackie Kennedy Onassis. The legendary singer once sang the song on The Muppet Show. 
Margo Price Gushes Over 'Greatest of All Times'
Margo Price reciprocates Loretta Lynn's adoration and respect. The post on Loretta Lynn's Instagram includes a quote from Margo Price. About the iconic singer, Price said, "She wrote her truth." Furthermore, she found inspiration in "watching how she navigated through her career, and motherhood."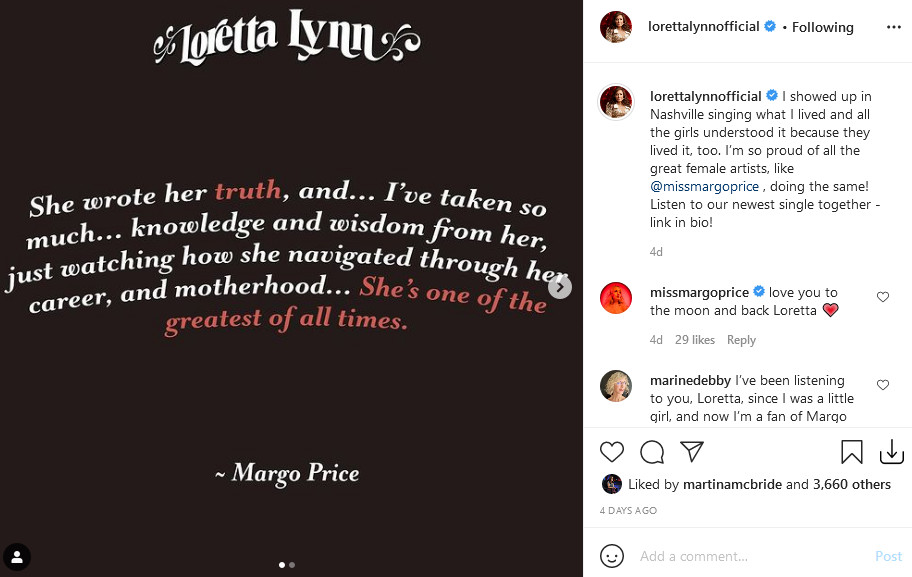 Many country music fans will agree with Margo Price calling Loretta Lynn "one of the greatest of all times." 
PBS recently aired a new documentary about the singer. Loretta Lynn: My Story in my Words premiered on February 27th. If you missed it, you can make a small donation and watch it on the PBS website. Check your local TV listings for possible reair dates on PBS. 
Follow us on Twitter for more country music news.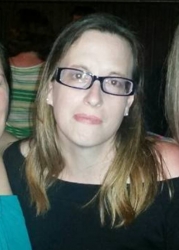 Latest posts by Jennifer Havener
(see all)