Miranda Lambert and Brendan McLoughlin have been rocked by marital rumors. Sources claim that the "Little Red Wagon" singer is "desperate for some space" from her husband. The last time that Miranda was in the tabloids was for her divorce from Blake Shelton. Since then, she has found love with the former police officer.
The couple rarely posts about their relationship on social media. But they did briefly break their silence to share photos from their road trip from earlier this year. Miranda and Brendan have been spending a lot of time together amid the coronavirus pandemic. The singer isn't used to it since she's often on the road touring.
Miranda Lambert wants to get away from her husband
According to OK! Magazine, the fast-paced couple is headed for trouble. Miranda Lambert and Brendan McLoughlin are already experiencing marital problems. A friend of the country singer told the tabloid that Miranda doesn't want her husband along for her first tours. The friend added that "he shouldn't come because it will be all work and no play. But she really just wants to get away from him for a while."
"Miranda is desperate for some space," the friend added. "In fact, she's hoping she'll book some more gigs soon!"
The duo spent most of their time together in their Airstream trailer. But a little time away from each other could do them some good. Miranda and Brendan embarked on a whirlwind romance that followed the global pandemic. The "Bluebird" singer married him just three months after they met on the set of Good Morning America. Their private vows came as a shock to fans.
Miranda Lambert and husband Brendan McLoughlin arrive together at LAX https://t.co/4XvmomUQjd

— JustJared.com (@JustJared) March 7, 2021
Their relationship has been heavy ever since. Brendan even retired from the police academy so he could spend more time with Miranda. He even took on the roles of security guard and meet-and-greet monitor at her tours.
"Brendan's friends joke that he quit his job to become a groupie," another source told OK! Magazine.
The couple spotted together in Los Angeles
Despite the tabloid rumors, Miranda Lambert and Brendan McLoughlin touched town in Los Angeles on Saturday, March 6. The couple looked happy as they smiled at the cameras. Both Brendan and Miranda wore face masks. They also had on hooded sweatshirts.
According to Just Jared, the country superstar wore a mint green New Balance tracksuit. Meanwhile, Brandon kept it simple in a beige sweatshirt with jeans. Both of them were on their phones as they walked through the airport. In January, the couple took to their respective Instagram pages to celebrate their second wedding anniversary.
Miranda says quality time "made us really strong"
Miranda Lambert is grateful for all the time she's been spending with her husband. In a previous episode of SiriusXM's The Storme Warren Show, the 37-year-old talked about getting to know her 30-year-old husband. Miranda admitted that they have been spending "so much alone time" together.
"I think it was really good," Miranda said. "We didn't date very long before we got married. And so we sort of got to just really, really, really get to know each other. Cause it was just us two with no distraction, at my farm outside of Nashville. And so I was really thankful for it because it made us really strong."
Miranda also said that "trying to tell the other person how to back up a trailer" helped push their relationship. When they travel in their Airstreamer, the couple uses that time to keep themselves occupied. Sometimes Miranda's "house husband" will do chores – often without a shirt. She joked that it was a "great idea."
For now, fans are just going to have wonder because Miranda isn't sharing if they are really having issues or not.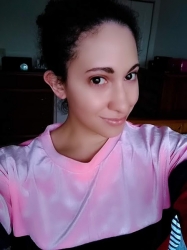 Latest posts by Chanel Adams
(see all)