Kelsea Ballerini is endorsing Reba McEntire for president. No, the legendary country star is not running for the 2024 presidential campaign. Kelsea just shared a lot of support for her fellow artist. In a new interview with Radio.com's Kelly Ford, the "Hole in a Bottle" singer feels that Reba could run the country.
Kelsea is feeling the girl power lately. She went on to explain her dream of an entire cabinet comprised of the "First Women of Country." Girl power is important – especially in the country music world. No matter what side of the argument you're on, you know there are not enough female artists on country music radio.
Why Kelsea Ballerini thinks Reba would make a great president
During the interview, Kelsea exclaimed that Reba McEntire "has her s*** together. She could run the world, I believe it." The songstress has a feeling that Reba would be the perfect leader of the free world. But that's not all. Kelsea thinks Dolly Parton should fulfill the role of Vice President.
"Dolly's like, 'Listen, I've already basically run the world, so I'm here if you need me,'" Kelsea joked, according to CMT. "But like, I also deserve a nap.'"
As for the role of Secretary of Treasury, that would go to Shania Twain since she's "good with money." When it comes to Secretary Education, she chose Trisha Yearwood. Kelsea feels that the country superstar has a lot to teach. "Trisha has really shown up for a lot of new, younger artists to help, educate and empower."
However, she was stuck on who should fulfill the roles of CIA or EPA. But she recently shared a note with People magazine on how she remains honest in her music. Maybe Kelsea could take on the role of Press Secretary. Or, maybe she could write Reba's presidential speeches.
"I don't have to exclusively put myself in one box. I'm more confident in my art than I have been in a long time," Kelsea explained. "I've got to be who I am from the beginning of this. A lot of artists and public people have a persona that they step into, but I can't do that. I don't want any surprises. I just want it all to be out there."
Reba McEntire joins Carrie Underwood and Loretta Lynn
Loretta Lynn is collaborating with Carrie Underwood and Reba McEntire for her new song "Still Woman Enough." On the new track, Lynn explains her story, the best way that she knows how. It's inspired by her 2002 autobiography of the same title. Then, Reba and Carrie take turns as they keep up with the living legend.
In an exclusive interview with Taste of Country, Lynn's daughter, Patsy said it was her mom's idea to collaborate with both singers. While there's no denying this trio is talented, they still had to sing separately in their three-part harmonies. Each one managed to stand out on the song.
"Mom's way smarter than all of us," Patsy said. "She saw a broader picture, that this is really about girlfriends standing together … I think that's the part of Loretta Lynn's genius, is knowing these moments."
Also, the acoustic shuffle is heard throughout and never really ends. The best moment is when all three women sing to one another. It's like they're trying to encourage one another, rather than out-sing each other. Check out Loretta Lynn's new collaboration with Reba and Carrie in the video below.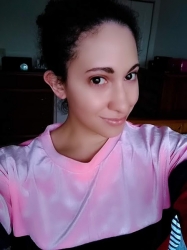 Latest posts by Chanel Adams
(see all)