Laine Hardy reaches out to a young girl of Asian American heritage. The country-singing kid seems really promising. No doubt, with Laine mentoring her, she gets a good grounding in the industry. The news came via his Instagram on Thursday, March 25. He shared a video of him singing with her on Zoom. So, if you think you heard all the humble and kind things Laine ever did, this one might raise your "impressed" levels even higher.
Laine Hardy reaches out – rising Country singer loved for more than just his music
Fans adore Laine, and not just for his good looks, charming smile, and singing talent. They also love that he always credits his fans and American Idol for his success. Never arrogant, he still remains humble and amazed at his success. Recently, he said that the judges, Luke Bryan, Lionel Richie, and Katy Perry taught him so much about the music industry. Of course, since the show, he managed to release some albums and singles that did very well. Also, his fan base that started off as a couple of thousand when he performed in the show in 2016, exploded when he won Season 17.
One extremely popular song he writes is called Ground I Grew Up On. And that's the song that Laine Hardy reaches out with. We reported earlier this month, that the rising star of Country revealed that Ground I Grew Up On is very special. Probably, it beats out Tiny Town in his book. Even though Tiny Town first attracted the attention of many Country music fans across the world. Well, Laine now told fans that when it first came out, he heard about a little kid of Asian American heritage who sang the song.
Lilly, the aspiring country singer of Asian American heritage
Laine Hardy reaches out to Lilly for two reasons. Firstly, he's of Korean descent, Sounds Like Nashville reminds fans. Plus he seemed very taken with her talent. He also noted in his post that "there's a lot of hate in this world." However, he said that "love and kindness conquer all." The Tiny Town singer revealed that he first heard about Lilly when her mom shared a video of her singing along to Ground I  Grew Up On. So, he soon connected and started hanging with her on Zoom.
Typically, Liane Hardy reaches out to Lilly for all the right reasons. In fact, he feels like he's the privileged one in this situation, rather than the little girl. He explained, "This moment was so important to me for so many reasons." Then he talked about how many fans  seem "excited to see someone with Asian heritage in country music." Additionally, he feels "grateful" for being able to "represent our heritage in country music." And he enjoys showing "kids like Lilly that they can do whatever they want." How awesome is That?
You can watch Laine Hardy and Lilly singing together in the link below the image: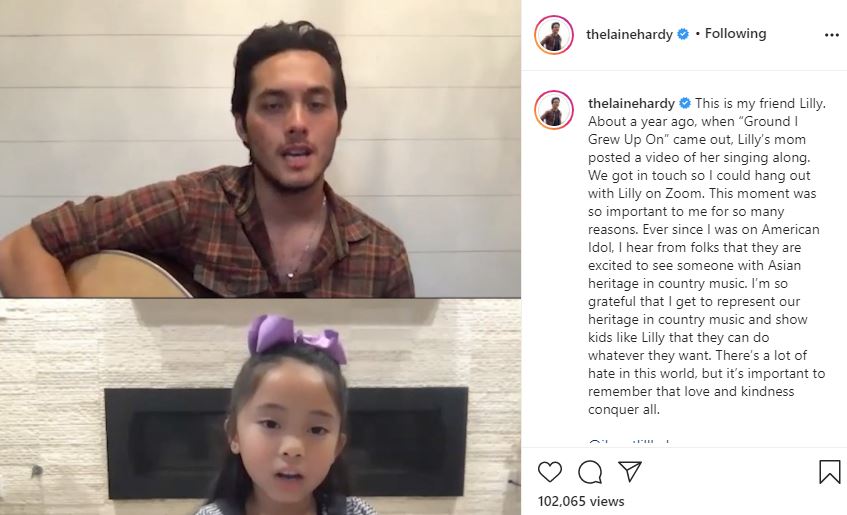 Naturally, fans reacted when they heard that Laine Hardy reaches out to Lilly. One of them wrote, "So special Laine. I don't even have the right words to describe what this makes me feel like."
What are your thoughts on this story of humble generosity? Sound off in the comments below.
Latest posts by Mandy Robinson
(see all)