Latest posts by Mandy Robinson
(see all)
Laine Hardy American Idol winner gave a shoutout to the show as the new season currently airs. Considered one of the more successful winners in recent years, the rising Country star doesn't forget his roots. Actually, he probably inspires upcoming talent like Caleb Kennedy. His growing popularity on the Country music scene proves that performers can do well even while struggling with live tours during the coronavirus pandemic.
Laine Hardy American Idol winner learned a lot from the show
We reported that Laine initially started off a bit slowly as he struggled with creating original numbers. But when he wrapped his head around it, he quickly grabbed the attention of Country music lovers. He produced some really good music in 2020, despite being restricted mainly to virtual tours. And during that time, he delivered  Tiny Town in honor of his hometown. Ground I Grew Up On cemented this acceptance into the ranks of rising stars. And the audio for Let There Be Country wowed many of his new-found fans.
Nevertheless, Laine Hardy, American Idol winner, never forgets his roots. That's evidenced in his music, and in his shoutout to the show. Not all winners go on and do all that well after their brief season of glory on the ABC show. Insider mentioned winners like Caleb Johnson who won the crown under Fox in 2o14. he went on and only produced one album since then. Meanwhile, Maddie Poppe seems a bit disappointing, especially as the third-placed contestant from her season did do well.
"Gabby Barrett became a country-music success with her hit single 'I Hope." Much like Laine, she's another Idol contestant who made the most of her new-found popularity.
Shoutout to the show and the judges
Laine Hardy, American Idol winner, Season 17 went onto Instagram on Friday, March 12. He shared an old photo from the show. His caption read, "I learned so much about what it takes to perform a good show during my time on @americanidol." Next, he praised all the judges and mentioned Luke Bryan, Lionel Richie, and Katy Perry. Interestingly, he didn't tag his post-show mentor, Bobby Bones. But maybe he only learned from him after his successful victory.
American Idol fans of Laine Hardy were quick to respond and comment on the post. Here's what some of them said:
"Staying humble…I like that! Great music Laine."
"Loved you on American Idol Laine. All your performances were brilliant. You looked and sounded fantastic and your guitar playing is amazing.❤️"
"When I saw you on American Idol I was mesmerized. The song Bring it on Home to me was my favorite song and you killed it. I have been hooked on your singing and looks ever since the show."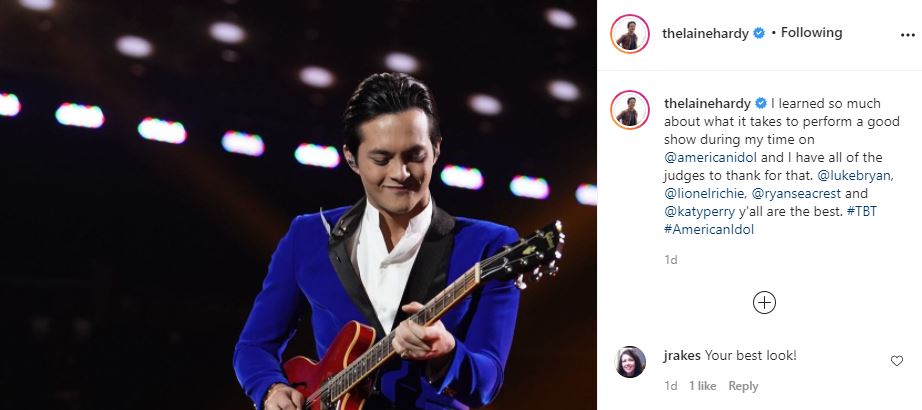 What do you think about Laine Hardy remaining humble and shouting out the show for his current success? Sound off in the comments below.