It's no secret that Gwen Stefani looks great for 51. She and Jennifer Lopez have a lot in common. They're known for their natural beauty. Their fans are desperate for their skincare secrets. Eventually, J.Lo profited on her looks by launching her own skincare collection.
As for Gwen, she's sharing her philosophy on aging. The No Doubt frontwoman remains humble, even though she's one of the most beautiful women in the world. Blake Shelton surely is a lucky man. Yesterday, Country Music Alley revealed some of the ways he's inspired her sense of style.
Gwen Stefani shares her thoughts on
The Voice coach is excited about life. Why wouldn't she? She's engaged to the love of her life. In the meantime, her empire continues to grow. Gwen Stefani has her own jewelry line that's also inspired by her fiance. Most of her happiness has something to do with her looks.
Women in their 50s, including those in the entertainment industry, are under intense scrutiny. Women in general can't seem to catch a break. While she's not an actress, Gwen is aware of the obsession with her looks. In a new interview with The Daily Telegraph's "Stellar," she shared her thoughts on aging.
"People talking about my aging is a compliment, I guess," Gwen said. "I'm kind of obsessed with how I'm aging, too."
The "Slow Clap" singer credits Blake for the way she looks. He's influenced every aspect of her style, from her clothes to her manicure. She also feels that she looks better when she's kissing him. Gwen has noticed how happy and in love she appears in their photos together.
"It's really hard for everyone to age and have to face life," she continued. "Especially for females and people who have been in the spotlight it can be daunting, but you tackle it by just trying to be the most beautiful version of yourself inside and out."
Gwen has a feeling that her relationship has something to do with it. She's showing the best side of herself because of him. The couple got engaged in late October 2020. since then, they've been quietly planning their wedding.
No Doubt star doesn't credit plastic surgery for her looks
Gwen Stefani did not share her beauty secrets in this interview. So, you won't learn about which anti-aging creams or serums she's using to look so young and fresh. She just wants to credit the country singer who gives her such a glow.
"Blake is the greatest guy," Gwen told the British outlet. "I look back over the past few years and look at pictures of when I first started kissing Blake, and I look the best I've ever looked in my life in those photos. Love must look good on me. I feel like that does show through – it really does."
Gwen has also been dipping her toe in country music thanks to him. The two have many happy duets. However, the collaboration process isn't always fun. Gwen admitted that she gets "so mad" when they don't write songs together.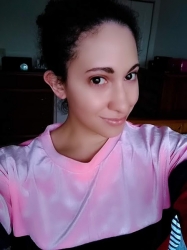 Latest posts by Chanel Adams
(see all)