Tim McGraw just one-upped Blake Shelton's fish photo. As Country Music Alley reported, Blake caught a large fish. The country crooner has been looking forward to fishing again after a long winter. He caught a gigantic fish that he had to hold in both hands. Now, Tim is showing off his impressive catch.
On Friday, April 23, the country star shared his own fish photo via Instagram. The shot shows him proudly holding a large fish that he caught during his latest fishing trip to the Bahamas. Of course, fans weren't paying attention to the fish. They were too busy checking out the stud.
Tim McGraw distracts fans with fish photo
In his post, Tim McGraw showed off his impressive fishing photos. The 53-year-old star wore nothing but black shirts and a baseball cap on a dock with the beautiful blue ocean water behind him. He also held up the huge fish that he caught. In his post, he revealed that he had "another great day on the water."
Most fans congratulated Tim on his catch. There were others who were distracted by his shirtless presence. "Damn Tim! I didn't know you took care of yourself so good! You look good, brother," one fan wrote, while another added, "I'm having a difficult time focusing on the fish."
"FIGHT SHAPE, MY MAN!!!" wrote MMA trainer, Mike Dolce. Here are even more comments about Tim's shirtless photo.
"What fish? There's a fish in this picture?"
"At this point, which one are we looking at??!"
"So wrong to look so good. The fish, talking about the fish. Lol."
"Ain't nobody looking at that wahoo…"
"Wahoo! Is right!! With all due respect Faith!!"
That last fan referred to Tim's wife Faith Hill. The two have been married since 1996. They share three children — Grace, 23, Maggie, 22, and Audrey, 19. It was his wife that encouraged Tim to focus on his health. He shared his incredible transformation in his 2019 book Grit & Grace: Train the Mind, Train the Body, Own Your Life.
The country star dropped new music
Tim McGraw also dropped his new song "God Moves the Pen," which is a reflection of his faith. The track is featured on Here on Earth Ultimate Edition, the deluxe version of his 2002 album, Here on Earth. The country superstar along with Tyler Hubbard of Florida Georgia Line also released their duet "Undivided," which Tyler wrote while quarantining on his tour bus after contracting COVID-19.
"Music gives us hope and brings us together in a way nothing else can. This doesn't mean we don't have work to do. Quite the opposite," Tim explained. "I loved the positivity of this song and that it called me to check myself and to remember that love is bigger. It's why I knew this song had to be my next single with Tyler as soon as he sent it to me."
In the meantime, "Undivided" is currently on the Top 20 on the Billboard Country Airplay chart. What are your thoughts on Tim McGraw's shirtless photo? Sound off below in the comments.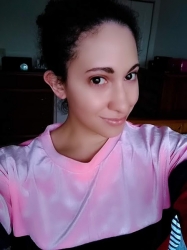 Latest posts by Chanel Adams
(see all)