Gwen Stefani revealed that Blake Shelton wanted to keep their engagement news a secret. As fans know, the two announced the news in October 2020. However, it's not known when the "Minimum Wage" singer popped the question. Initially, he wanted to keep a secret from the world.
That's hard to believe since the couple loves to share their love with their fans. The No Doubt singer appeared on Late Night with Seth Meyers in lieu of the 25th anniversary of "Don't Speak." On the Thursday, April 22 broadcast, Gwen revealed that she and the country star were already married when she last appeared on the show back in October.
Did Blake Shelton want to keep their engagement a secret?
During the show, Gwen Stefani revealed the timeline of their engagement. The couple got engaged sometime in October. Following her last appearance on Seth Meyer's late-night talk show, they decided to announce the news. The couple was sitting on this happy news and wasn't sure what to do with it.
"We got engaged about a week before that and Blake was like, 'Let's not tell anyone. Let's just make it ours for a minute,' and I was like, 'Yeah, of course,'" Gwen said. "I was dying to tell everybody, you know what I mean? And I knew I was going to be on your show, and I felt really guilty actually. But look, look. There it is. There it is, guys."
The "Slow Clap" singer revealed her engagement ring and put it up close to the camera. Gwen said they were happy to finally share the news with their fans and followers on social media. Obviously, the 51-year-old was ecstatic and couldn't wait to reveal her diamond ring. After a while, Blake finally gave in and agreed to share the news.
"We were really excited to share it, and it was fun to kind of hold on to the secret for a week," Gwen continued. "And then, finally, Blake was the one that was like, 'Wait, when are you gonna tell people?' I'm like, 'You're the one that said not to tell anyone!'"
They won't be having a star-studded wedding
Country Music Alley previously reported that Gwen Stefani and Blake Shelton are getting married this summer. Don't expect celebrities to be in attendance though. While Blake said he would like Adam Levine to perform at his wedding, it might not happen. Gwen said she loves the idea but said they might not even have a wedding band.
"I definitely would love to have Adam sing at our wedding, but the thing is, is that I feel like we're not gonna have a wedding band," she explained. "I feel like we're just gonna go with a playlist. We're keeping it very simple — really simple."
So many celebrities have offered to perform at the couple's wedding. Not only the Maroon 5 frontman but also Miley Cyrus and country singer Raelynn. Adam said he would be "honored" to perform at their wedding, but didn't think it would happen. Now, it appears that neither Miley nor Adam will be performing at their summertime nuptials.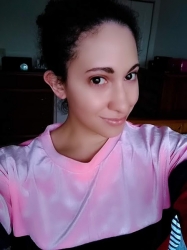 Latest posts by Chanel Adams
(see all)