Kacey Musgraves revealed that her dream job is to hand out snow cones. So, a company helped make her dream come true. The Golden Hour singer fulfilled her "lifelong dream" over the weekend. She spent her time working at a snowcone stand in Nashville.
However, it's Kacey's social media post that received backlash. The singer called herself an "essential worker." This comes after the country singer was spotted with Kourtney Kardashian and her rumored boyfriend Dr. Gerald Onuhoa. The couple hinted about their relationship on social media but hasn't confirmed anything.
Why fans don't like the singer's tweet
On Saturday, May 1, Kacey Musgraves took to Twitter to share several photos from her new "dream job." She revealed that she finally fulfilled her dream to serve snow cones out of an ice cream truck. On her social media account, the "Butterflies" singer said she had so much fun working as an "essential worker." She donned a face shield as she handed out free snow cones to patrons.
Kacey even posed for fan photos, most of which she posted on social media. Celebrity friends like Lily Aldridge and Reese Witherspoon commented on Kacey's Instagram post. They wrote: "OMG!! This is so FUN!" and "This is the best ever!!!!" However, some people don't find the fun in a successful country star working a minimum wage job.
It's called being an ~essential~ worker pic.twitter.com/RgGkNCMyh2

— K A C E Y (@KaceyMusgraves) May 1, 2021
Some would call Kacey's social media posts "tone-deaf." According to the "Rainbow" star, she recalled her "life long dream" of working at a snowcone stand. Kacey wanted to know if any snowcone stands were currently hiring — temporarily of course. Blue Monkey Shaved Ice responded to Kacey's social media plea and asked her if she wanted to work for them for a day while handing out free shaved ice to Nashville residents.
This post has ruined my life. It is so egregiously offensive that I will never experience happiness again. I will dwell on it forever.

— H҉E҉A҉R҉T҉ ҉A҉T҉T҉A҉C҉K҉ ҉M҉A҉N҉ 🥕💉 (@HeartAttackMane) May 2, 2021
Not to be rude but I really hate when rich people play poor while essential workers have been literally dying from covid and unsafe working conditions this past year.

— pumpkin head (@hopeythesoapy) May 1, 2021
Babe this ain't it. People have worked tirelessly and risked their lives to keep working as an essential worker. You are not an essential worker, do not undermine the hard work and sacrifice actually essential workers have done. Please re evaluate and delete this post

— Ange 💛💛 (@Aeeek27) May 2, 2021
I'm sorry but this….. ain't it. Please don't undermine actual essential workers. This doesn't sit with me well. And Before anyone comes at me with the "she's just having fun" bs. That's not the point. This is not something to make light of. It's not cute or funny.

— •𝕊𝕙𝕒𝕟𝕟𝕠𝕟• 🪓♥️ (@rainbowdot13) May 2, 2021
I am 37 with arthritis diagnosed during the pandemic. Glad retail employment is such a cosplay party for ya. 🥲

— No Gods/No Masters A4S (@Anything4Smilez) May 3, 2021
The singer-songwriter took them up on their call and the rest is history. Per CMT, Kacey took her advice of "never [getting] taller making someone else feel small." However, some fans feel that she is acting like an "essential worker" is akin to a cosplay character. Others enjoyed meeting Kacey in Music City and getting a cold treat out of it.
Kacey Musgraves is making new music
Regardless of the online backlash, there was a long line down the street as people waited to meet the artist to serve them. Kacey Musgraves told a Nashville newspaper that her "dream job" was "hands down" the best experience she's had during the coronavirus pandemic "[because] it's so fun and it makes people happy."
In the meantime, Kacey is working on her forthcoming album that's inspired by tragedy. She's even collaborating with her previous songwriters and producers Daniel Tashian and Ian Fitchuk, who also co-produced Golden Hour. It's likely that Kacey will also address her divorce from former husband Ruston Kelly.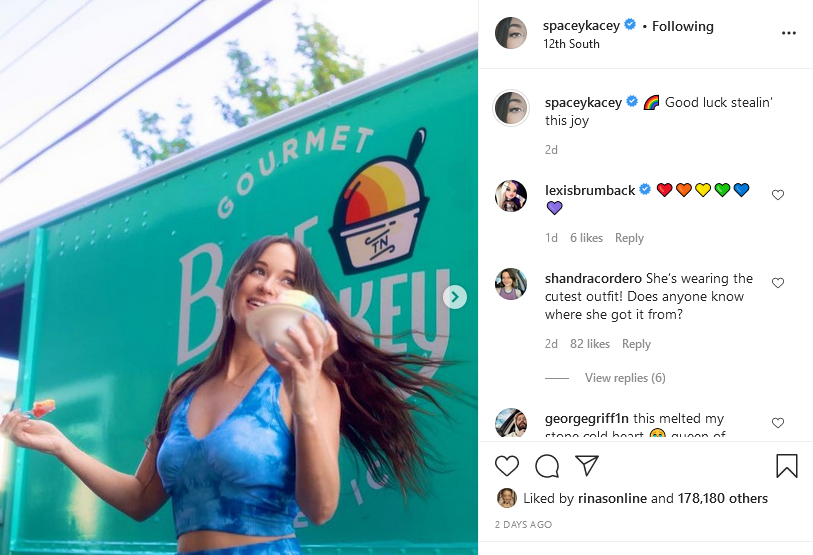 "This last chapter of my life and this whole last year and chapter for our country — at its most simple form, it's a tragedy," she said, per Tennessean.  "And then I started looking into why portraying a tragedy is actually therapeutic and why it is a form of art that has lasted for centuries. It's because you set the scene, the audience rises to the climax of the problem with you, and then there's resolve. There's a feeling of resolution at the end. I was inspired by that."
What are your thoughts on Kacey's social media posts? Do you agree that it was in poor taste? Sound off below in the comments.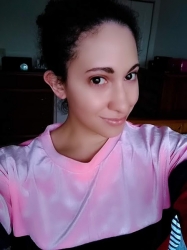 Latest posts by Chanel Adams
(see all)