As fans anxiously await more details about the nuptials for Blake Shelton and Gwen Stefani, the couple does enough to keep fans entertained in the meantime. Both of them are steadily releasing new music. Not only that, but they do every day normal things too. Luckily for fans Gwen Stefani often posts these relatable moments on her social media. Keep reading to find out what happens when Gwen Stefani cleans out Blake Shelton' closet. 
Gwen Stefani does spring cleaning in Blake Shelton's closet
Recently, People reports the details about what happens when Gwen Stefani cleans our her fiancé, Blake Shelton's closet. It's not like she was just rummaging through his things either. The superstar was just doing some spring cleaning. However, she finds some things that she decides to keep for herself. 
Gwen Stefani takes to her Instagram Story to model items she heists from Blake's closet. Specifically, an orange and blue flannel button-up shirt. "We're for sure keeping this shirt," she writes. It's also no secret that she acquired this shirt for her own wardrobe since she tags Blake in the post.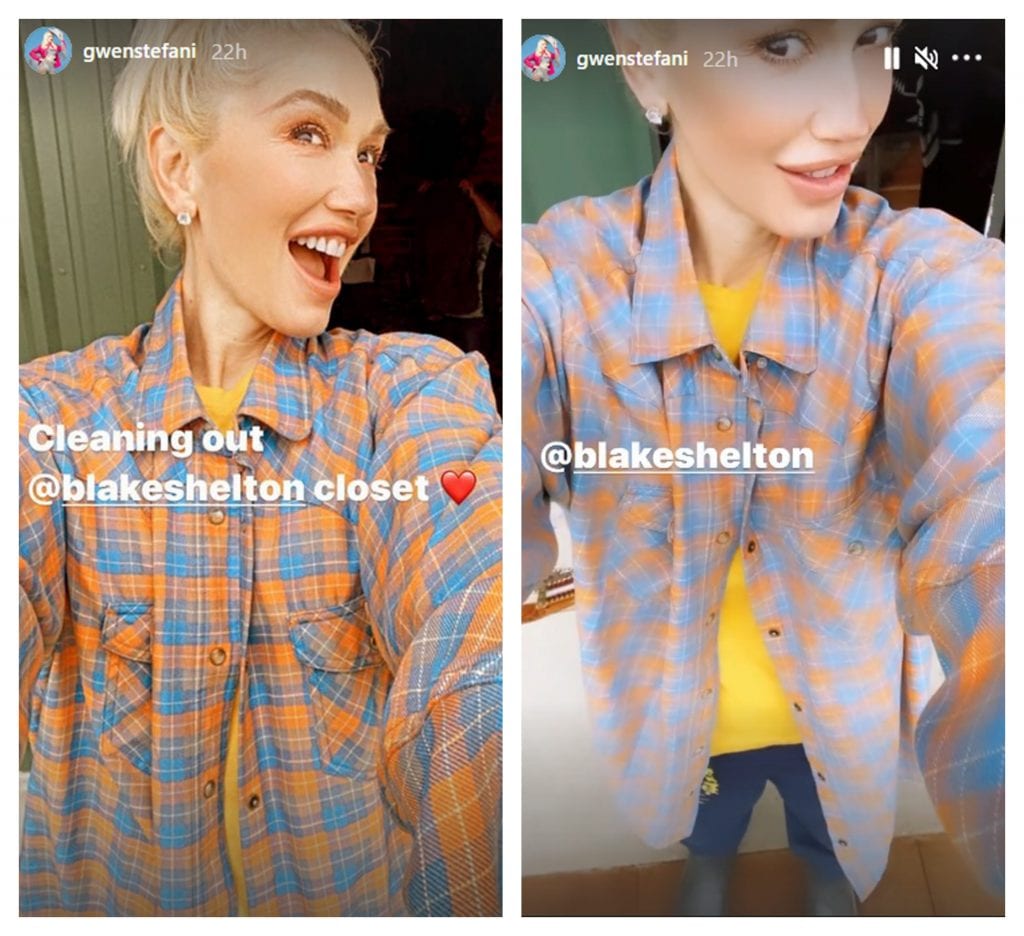 Other times Gwen doesn't dress like fans expect her to
This isn't the first time that it appears that Blake Shelton's country ways have rubbed off on the pop star. For her song "Slow Clap," Gwen Stefani dresses to the nines in rhinestone cowgirl gear. When it comes to Gwen Stefani's fashion choices for promoting the single, Yahoo! Describes it best. The outlet reports that Stefani "transforms into 'Country Barbie' in a Western suit & glittering combat boots."
View this post on Instagram
Not only that, but there are several photos between the couple's Instagram accounts where the glitz and glam pop star, Stefani is dressed down. For example, the in the photo announcing their engagement, Gwen is wearing blue jeans, a baseball-style t-shirt, and a trucker ball cap. While that may not be what her fans are used to seeing her in, that doesn't  mean that isn't the norm for her. 
View this post on Instagram
What do you think about Gwen Stefani's latest fashion adjustments? Do you think we'll start seeing a more laid back, country music style from her? Let us know your thoughts in the comment section below. Make sure to come back to Country Music Alley for more news about Blake Shelton and Gwen Stefani.