Miranda Lambert often gives an inside look into the aesthetic of her home via her social media. However, fans can now have their homes smell like the country star's. Keep reading to find out what Miranda Lambert's house smells like.
Miranda Lambert moves from rural Tennessee to the bustling city of Nashville
Recently, Country Music Alley reports that Miranda Lambert gives up her rural Tennessee bachelorette pad. According to The Boot reports, Miranda and Brendan McLoughlin are building a new home. Additionally, the outlet reports that their new home has five bedrooms and six bathrooms. The Boot describes the house as a "very modern 5,800-square-feet."
Furthermore, fans express concern that Miranda won't have a "magic porch" anymore. Luckily, the songstress confirms that there isn't any cause for concern. "I've moved, and I'm creating a new magic porch."
Sadly, Miranda hasn't posted any photos of the interior of her new home since moving. It is likely that this new house is still under construction. At one point, Miranda shares that she and Brendan are living in a cabin while they await the completion of their Nashville home.
Miranda Lambert Celebrates 2021 with Symbolic Impromptu Performance
What does the 'Bluebird' singer's home smell like?
Recently, Miranda Lambert takes to her Instagram Story to share her appreciation for a candle company. Ultimately, she lets her fans know what her home smells like. The photo shows a burning candle on what looks like a distressed wooden entry table in front of a wooden lamp. At the top of the photo, she tags Wooded Creek Candle Co.
Next, Miranda writes about some of the things she adores about this candle. "Y'all these candle's [sic] are amazing. made with essential oils and hand poured by my friend @bleighty in TN. This 'Woof one good for doggy owners. Smells so good," writes the country music superstar. With all her rescue pups, it's no surprise that Miranda would need a pet odor-eliminating candle in her life.
View this post on Instagram
The Woof candle picture in Miranda's Instagram story retails for $28 in a 14 oz. rocks glass and $18 in an 8 oz. travel tin. According to the description, this scent is meant to eliminate bad pet odors and "leave behind a clean, fresh linen scent." The essential oils used for this include patchouli, geranium, and coriander.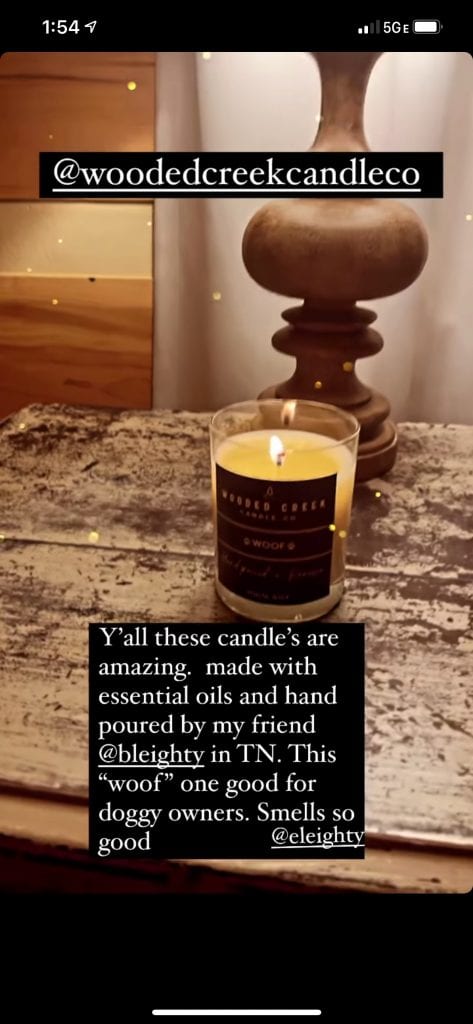 Are you going to take Miranda Lambert's candle recommendation and order a candle from Wooded Creek Candle Co? Let us know in the comment section below. Make sure to come back to Country Music Alley for more news about your favorite country stars.