The Kelly Clarkson Show shared a humorous clip with its fans and followers. The video shows Kelly Clarkson and Nick Jonas talk about their love of talking smack about one another. She invited him onto her daytime talk show to discuss their hit show, The Voice. Nick Jonas was one of the celebrity coaches during Season 20.
However, that will all change when Ariana Grande joins the roster. Earlier this year, the NBC singing competition announced that the "Positions" singer will end up in one of the swiveling red chairs. As fans know, the coaches love to poke fun at each other's expense. Nick couldn't help but admit that he now enjoys talking smack about everyone.
Nick Jonas loves to talk smack
On Tuesday, July 20, The Kelly Clarkson Show posted a new clip on its official Instagram account. The video shows Nick Jonas talking smack about the American Idol alum' and their fellow coaches. They captioned the post, "#TheVoice smack talk never ends.😆" Kelly noted that Nick got more comfortable with talking smack about his fellow coaches, but it's all out of love.
"You feel like way more relaxed about giving us crap which I love," she admitted.
"Yeah I now view all of you as like my brothers and sister," Nick said. "And so I don't really care …"
"No one has feelings," Kelly said.
"I'm just going to let it go and take you guys down a notch," Nick added.
Kelly couldn't help but laugh. It seems like the coaches are comfortable with one another and it shows. It's one of the reasons why this show is so popular. Fans mostly watch the show for the coach interactions.
Some of them have their favorites like #TeamKelly or #TeamBlake. There are also others who are on #TeamJohnLegend or #TeamNickJonas. There's no doubt that there will be a lot of Arianators who will be rooting for Ariana Grande to win her first season.
Kelly Clarkson fans support their favorite singer
Kelly Clarkson fans flocked to the post to show support for their singer. Some of said that Nick Jonas shouldn't talk crap since Kelly is the better singer. Others enjoyed the interaction between the two. Most of the comments section was filled with the face of tears of joy emoji.
"I literally love their connection and love for each other.

😍😍❤️❤️❤️

"
"This season has been so much fun.

🙌😂

"
"Nick's giving zero fs this time around!! Let the games begin!

😂😍👏

"
"I'm going to miss Nick on The Voice this season."
Some couldn't help but notice Kelly's beautiful smile. They love that she's happy no matter what. Others noticed that the coaches do change their attitude when they're in direct competition with each other. Suddenly no one has feelings and all bets are off.
What are your thoughts on Nick and Kelly's conversation? Do you agree that the coaches love to talk smack with each other? Sound off below in the comments. The Voice Season 21 returns sometime this fall on NBC.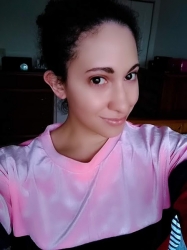 Latest posts by Chanel Adams
(see all)