Blake Shelton is sharing the details of his wedding with Gwen Stefani. The couple got married just a month ago today. They shared their love in front of 40 of their friends and family. Every aspect of the wedding had its own personal touch.
Even their vows were personal. Blake shared the details of his wedding vows in a new interview. The country singer continues to talk about their marriage to the media. He even made a shocking revelation about his life with the singer.
The "God's Country" singer wrote his wedding vows
Blake Shelton made an appearance on The Highway SXM Show. He sang the wedding vow that he wrote to Gwen Stefani. He talked about how the song came to fruition. Once he knew they were writing their own vows, he decided to write his own song.
Gwen doesn't like it that they don't write songs together anymore. He didn't even write music for his new album, Body Language. But when it came to their special day, he knew he had to surprise her. Blake doesn't normally enjoy the songwriting process but will do anything for his wife.
"As soon as I knew that's what we were going to do, I started trying to write a song because that's kind of the opposite of what she would've wanted to expect me to do," Blake said. "Because I'm to the point where I don't write that many songs anymore. It's just like pulling teeth for me."
@thehighwaysxm

Don't mind us, just sitting here waiting to hear @blakeshelton's wedding vow song to @gwenstefani. 🥰❤️ #TheHighway
He joked that Gwen is "always on my case about it." When he started writing the song, he got so far along. He called Craig Weisman to help him out since he needed to get it right. Blake didn't just want to write a wedding song, he wanted to write a song that would "stand the test of time."
The Voice coach wanted something "broad" enough for his fans to relate to, but also "specific enough for Gwen." The No Doubt singer had no idea that Blake had this idea up his sleeve. He surprised her with the song on their wedding day. The duo also recorded the song in Nashville.
Blake Shelton makes a shocking revelation about married life
Blake Shelton also opened up about the details of his married life with Gwen. The couple spent time in Oklahoma where they had a mini honeymoon. During that time, Gwen worked on their garden. They have since returned to their home in Los Angeles, where they're both at work.
Blake said he wanted something quiet and peaceful before they returned to the West Coast. He called their time together "absolute heaven." Gwen and Blake wed at his ranch in Tishomingo, Oklahoma. The couple also snapped a photo there for their 2020 engagement.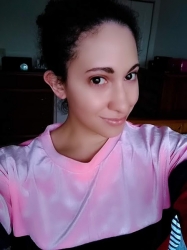 Latest posts by Chanel Adams
(see all)