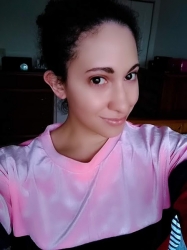 Latest posts by Chanel Adams
(see all)
Gwen Stefani admitted that she had her wedding cake made for her 21 years ago. The No Doubt singer married the country star last month. Their intimate wedding took place during the Fourth of July weekend. Blake and Gwen kept every detail of their ceremony a secret.
They only shared the details after they got married. Country Music Alley dug into what the couple ate at the wedding. Unfortunately, there was no information about the courses only about the wedding cake. Their choice of dessert was something that the songstress dreamed up over twenty years ago.
The No Doubt singer got her wedding cake from this music video
Gwen Stefani and Blake Shelton posed near a tiered wedding cake. It was the same cake that No Doubt fans saw before. The singer shared the similarities of the two cakes via her Instagram Stories. The photo showed herself wearing a pink wig and white wedding dress from her music video "Simple Kind of Life."
Gwen followed up with a recent photo from her wedding. As you can see, it's the exact same cake. So, technically Gwen had her dream wedding cake made 21 years ago. In the photo, Blake wore a black vest over a white tuxedo shirt and a tuxedo tie. Gwen wore a custom-made Vera Wang wedding gown.
"Simple Kind of Life Music Video 2000," she captioned the post. "Gwen and Blake's wedding 2021."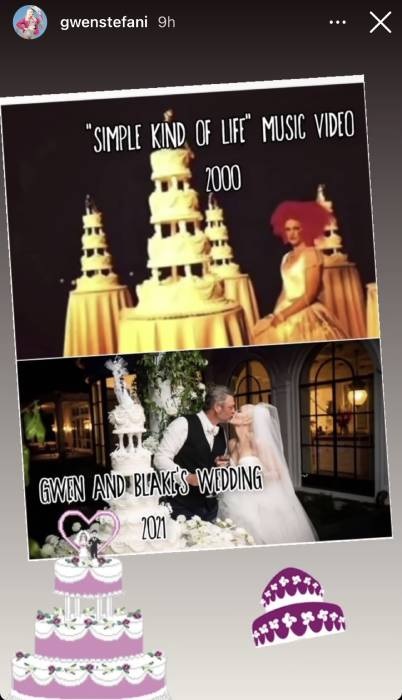 Gwen was surrounded by the similar-looking cakes in her music video. She also revealed that Vera Wang persevered her wedding gowns and sent them with a display of white roses. Blake admitted that he felt like an "idiot" over his choice of gift for Gwen.
"I'm standing here like an idiot as you told me to go get some flowers for a vase for dinner and then I walk in and see this…"
Blake stood in a navy blue shirt that featured palm leaves and bananas. He held a bouquet of white flowers in his hand. The "Minimum Wage" singer looks disappointed when he saw the gorgeous floral display on the table. Blake had second thoughts about what he wanted to do for their date night.
Gwen Stefani wanted a simple kind of life
The singer always hinted about having a beautiful life and marriage. In 1996, Gwen Stefani and her band No Doubt worked on their Return of Saturn album. She picked up a guitar and the words for "Simple Kind of Life" came out of her. The personal song talks about the pop star's dreams about settling down and becoming a mom.
"That song defined exactly how I felt during that time period," Gwen said in a Seven Days of No Doubt video. "It was such a confusing time period: my relationship was confusing, everything about myself."
At the time, Gwen dated Bush lead singer Gavin Rossdale. The couple married two years later. The couple divorced in 2015, around the same time Gwen started dating Blake. Gwen and Gavin share three sons.
Check back with Country Music Alley for more news on Gwen Stefani.