CMT will celebrate the life and legacy of trailblazing country music artist Charley Pride with a star-packed 90-minute event.
Singer and songwriter Charley Pride broke barriers and made memorable and iconic country hits in his lifetime. Now CMT and a select group of musicians honor the man who had 52 number one singles in CMT Giants: Charley Pride.
His devoted loyalty and unwavering friendship to many artists, and constant optimism left a legacy reflected in the honors bestowed to him during his lifetime.
The stunning vocals of Mickey Guyton open the CMT special. Guyton sings one of Pride's 1971 hits. I'm Just Me, written by Glenn Martin. Wynonna recalls "the gentle giant" she grew up with as Luke Combs saluted his trailblazing chops, and even his baseball passion is noted.
For four decades, a friend of Pride's, George Strait, called Pride a "master of his craft" who made America "a better place. " He saluted Pride with a cover of his hit song, Is Anybody Goin' To San Antone.
About CMT Giants: Charley Pride
This special is a warm celebration honoring the life and legacy of groundbreaking country music icon Charley Pride.
The star-packed, 90-minute special boasts special performances and interviews from family, friends, and collaborators who come together to perform and share anecdotes and reflect on Pride's lasting legacy.
Also appearing are his wife Rozene and son Dion. In addition, the producers have lovingly stitched together rare archival photos, interviews, and rare performances, with clips and commentary from Mr. Charley Pride himself.
The special brings together Charley's superstar friends and some of the biggest names in music today to celebrate his most legendary hits. They include Alan Jackson,  Darius Rucker, Gladys Knight, and LeeAnn Womack.
Also appearing are his son Dion Pride, Garth Brooks, George Strait, Jimmie Allen, Luke Combs, Mickey Guyton, Wynonna, and producers have arranged special appearances from Neal McCoy, Nolan Ryan, Reba, Ronnie Milsap, and Mr. Pride's wife, Rozene Pride.
Behind the scenes
The special is pulled together by CMT's Margaret Comeaux and Taillight's Tom Forrest, who serve as Executive Producers.
The Executives in Charge of Production are Jackie Barba and Heather D. Graffagnino. Leslie Fram is Executive in Charge of Talent; Shanna Strassberg is Talent Producer.
"CMT GIANTS: CHARLEY PRIDE" premieres Wednesday, April 25th at 9p/8c (encores Sunday, April 29th at 12p/11c) on CMT.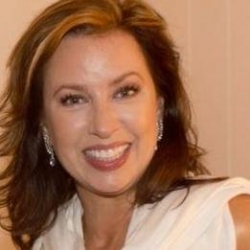 Latest posts by April Neale
(see all)