Lisa Lee, Senior Vice President of creative and content for the Academy of Country Music, died Saturday, August 21st, from brain cancer. She was 52.
A major force behind the scenes in country music and the awards shows that honor the stars, Ms. Lee also served as a journalist and a producer and counted many luminaries in the genre as her friends.
In a press statement to Country Music Alley,  her peers shared the life and legacy of Ms. Lee.
Lisa Lee: A career that leads to the stars
Born Alicia Faye Young from Cabot, Arkansas, Ms. Lee earned a bachelor's degree in journalism and English from the University of Arkansas at Fayetteville and a master's degree in broadcast journalism from Northwestern University's Medill School of Journalism.
Her path to the awards circuit began in journalism, and she landed a reporting job at the Cabot Star-Herald newspaper right of the school.
Her friends at the Academy said of her reporting style: "[She was] A true advocate of the human condition, her reporting throughout her career was grounded by a strong emphasis on the heart of what a story meant to those impacted and those watching."
An anecdote shared by her peers in their statement included a moment when she was reporting at KTAL-TV, an NBC affiliate serving Texarkana and Shreveport, LA.
A challenging and humid assignment led to a camera malfunctioning. In the press statement, they wrote: "Lisa and crew got creative, drying out the aging piece of equipment with a hairdryer, rather than miss the story because of a technical problem."
A shift to country
It was entertainment-based news that caught her attention the most and she convinced station management to allow her to do movie reviews and in doing so, created her own "critics' corner set."
Arkansas and beyond, Lisa would cover the event when a country star was booked to appear in Arkansas or any surrounding state. Her interviews and research demonstrated that the local affiliates thoroughly reported the story and breaking news.
Through their press statement, her colleagues remembered her entree to the bigtime world of country in Nashville:
A regular at Country Music events throughout the region, the always-friendly television journalist began forging meaningful friendships with other members of the media. A friendship with a reporter/producer from Jim Owens and Associates, the Nashville-based production company behind TNN Country News at the time, suggested keeping in touch. Soon she was checking in with the folks at Jim Owens, updating them on all the entertainment pieces she was working on, while not so subtly working to convince them to hire her.
Jim Owens and Associates hired Ms. Leees. She served as a reporter and producer in Nashville from 1995 to 1999.
Then, in 2000, Lisa moved to CMT and CMT.com as a news correspondent and producer. Then a part of the MTV Networks group, Ms.  Lee, also reported on events worldwide.
Not just celebrities
Ms. Lee also wrote and produced the Prism Award-winning special "Addicted to Addiction," as well as the TV news specials "Sex in Videos: Where's the Line" and "Controversy: Tammy Wynette."
In 2004, Lisa moved to Los Angeles, becoming the Hollywood-based correspondent and West Coast News Bureau Chief for CMT Insider, the network's interview-driven news show, where she covered music, movies, and television.
In 2007, Ms. Lee accepted the Academy of Country Music's offer to help the Academy establish and grow its own in-house creative and video production department.
As the Academy's lead staff producer, she oversaw all video production as well as the design, creation, and editing of ACM logos, digital and printed materials including ACM Tempo magazine, the ACM Awards program book, and both the ACM and ACM Lifting Lives websites.
Lee served as a liaison with CBS television's creative departments and CBS.com for promos and creative content surrounding the annual ACM Awards.
She was named producer of the Academy of Country Music Honors and ACM Industry and Studio Recording Awards winners. Held annually at the Ryman Auditorium in Nashville, Lisa's hard work behind the scenes celebrated those who went the "extra mile to support, expand, and protect Country Music in its most creative places."
Then in 2014, Lisa wrote and created This Is Country: A Backstage Pass to the Academy of Country Music Awards. The deeply researched coffee-table book celebrated the 50th anniversary of the ACM Awards and included a forward by Reba McEntire.
Ms. Lee was a member of the Writers Guild of America. In addition, She was a devoted mother and wife on top of her career accomplishments.
For those who wish to stay updated on details for next weekend's services, the celebration of life to be held in Nashville at a later date, and to support her family by contributing to her memorial fund, please click here.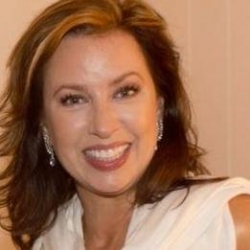 Latest posts by April Neale
(see all)