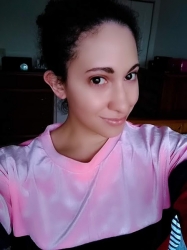 Latest posts by Chanel Adams
(see all)
A former Miss America is making headlines. Her covers of Kelly Clarkson and Carrie Underwood songs have gone viral. Betty Maxwell made an appearance on the American Idol Season 20 auditions. She blew away the judges with both of her renditions.
She covered both popular songs during her audition. Maxwell wanted to do the singers well. After all, both Kelly Clarkson and Carrie Underwood tried out for the show and went on to win. They still have big careers to this day.
Maxwell is hoping her luck will turn out the same way. The Georgia native tried out for the AI Season 20 auditions. Maxell won Miss America in 2016 after she won Miss Georgia in 2016. She impressed the crowd with her operatic talent.
Sings Kelly Clarkson and Carrie Underwood covers
Maxwell stood in front of judges Katy Perry, Lionel Richie, and Luke Bryan. She said her dream was to become a Disney princess. She even shared her impressions of popular Disney characters like Ariel from The Little Mermaid and Belle from Beauty and the Beast. But now, she's hoping to become the next American Idol.
Perry asked Maxwell if she could wear her crown. The aspiring singer said she wasn't allowed to let anyone else wear it. "The real question is will you be Miss 'American Idol'?" Perry asked.
The first ✨ 𝗚𝗼𝗹𝗱𝗲𝗻 𝗧𝗶𝗰𝗸𝗲𝘁 ✨ of the night!

Miss America-n Idol, Betty Maxwell!#AmericanIdol pic.twitter.com/wnNG92HKZB

— American Idol (@AmericanIdol) March 7, 2022
On the Sunday, March 6, episode, Maxwell performed Kelly Clarkson's breakout single "A Moment Like This." She also sang Carrie Underwood's 2005 hit song "Jesus Take the Wheel." The judges were blown away and wanted more from Maxwell. She was given the Golden Ticket to Hollywood Week.
Check out her incredible audition in the video below and share your thoughts in the comment section.
Wants to become a country singer
Maxwell admitted that she's a country girl at heart. In fact, she hopes to become a popular country singer like Kelly Clarkson and Carrie Underwood. Luke Bryan told her that "Pageant girls sing like pageant girls. You don't sing like a pageant girl. You sing like a real singer."
Lionel Richie was also impressed with what he heard. He advised Maxwell to get out of her head. That's when she told Perry that she steers toward country music.
"When I moved to Nashville, that was where my heart was," Maxwell explained. "I love country music."
Still, she did an amazing version of the Kelly Clarkson cover. She still covered the beautiful ballad that the first American Idol winner performed when she won. Maxwell is hoping that her Golden Ticket will get her all the way through the end. What are your thoughts on her Kelly Clarkson and Carrie Underwood covers? Sound off below in the comment section.
Check back with Country Music Alley for more news on Kelly Clarkson and all your country favorites.