Did Gwen Stefani kiss Jimmy Kimmel? She teased that something happened with him that very night she went on the late-night show. She also ditched her wedding ring during her appearance.
The No Doubt singer had to apologize to her husband on national television. But, don't worry — it's not what you think. Gwen and Blake's marriage is as strong as ever. She is just having a good time with the talk show host.
Something happened with Jimmy Kimmel
On Thursday, March 24, Gwen Stefani took to Twitter to share a photo of herself with Jimmy Kimmel. His mouth was covered in red lipstick. Did she kiss him? Gwen's lips weren't flapping.
She posed with a shocked look on her face. What's also interesting is that she also wore red lipstick. The singer paired her look with a black-and-white checkered jacket. Even her manicure matched her outfit.
"something happened tonight … @JimmyKimmelLive hint… @gxvebeauty gx," Gwen Stefani captioned her tweet. 
She teased that it had something to do with her new makeup brand. Earlier this month, Gwen launched GXVE Beauty. This cosmetics collection was years in the making. Gwen has been actively promoting it.
something happened tonight … 🤣🤣🤣 @JimmyKimmelLive

hint… @gxvebeauty 💋

— Gwen Stefani (@gwenstefani) March 25, 2022
Ditches her wedding ring
Here's what else happened during her interview with Jimmy Kimmel. Gwen Stefani forgot to wear her wedding ring. She had to apologize to Blake for forgetting to wear it during her appearance on Jimmy Kimmel Live. She noticed as she looked down at her hand.
"I forgot to wear my hands," Gwen Stefani told Jimmy Kimmel during her appearance on Thursday, per Page Six. "It's like the first time! I thought, 'OK, I'm going to put it in the jewelry cleaner so Jimmy sees how sparkly and amazing my ring is.' And then, hello, empty finger."
She was embarrassed by this simple mistake. The "Slow Clap" singer apologized to her husband on live TV. She can't believe she went on live television without wearing the ring that symbolizes their love. Hollywood stars know that the divorce rumors could easily swirl.
"I'm so embarrassed! I'm sorry, Blake," Gwen Stefani looked at the camera and said. "I love my husband, and I love being married to him. It's just the greatest thing that's ever happened to me, so here we are."
Gwen Stefani loves being married
As you can see, the songstress loves being married. It hasn't been one year since Gwen Stefani and Blake Shelton tied the knot. Yet, the couple is still in their honeymoon phase. While most couples would get sick of each other, that hasn't been the case for these two.
Gwen Stefani couldn't stop gushing about Blake during her interview. She also talked about her GXVE Beauty brand and had Jimmy try on her signature lipstick. In another tweet, she said that it "looked great on u!" Check back with Country Music Alley for more news on Gwen Stefani.
this wasn't my first rodeo…. but houston was !! thank u for having me back @JimmyKimmelLive 🤠✨🤍 oh… and @gxvebeauty looked great on u! gx https://t.co/zN74hUgwpC

— Gwen Stefani (@gwenstefani) March 25, 2022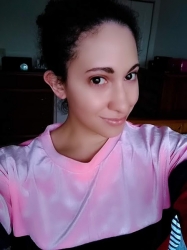 Latest posts by Chanel Adams
(see all)