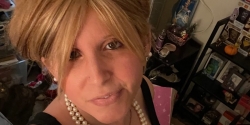 Latest posts by Amanda Nowitz
(see all)
Billy Ray Cyrus just confirmed his engagement to fellow musician, Firerose. The two had sparked romance rumors for months now but made it official over the summer. Then the ring was eventually spotted and, of course, fans wondered if there was more to it. Finally, after a photo shoot, with the diamond on display, Billy Ray made the confirmation. He was in fact engaged and seemingly happier than ever. However, it did come on the heels of his divorce from his wife of nearly 30 years, Tish. So, how do his six children feel about everything? Read on for more details.
Billy Ray Cyrus' Kids React To His New Romance
When the engagement rumors started to fly, it appeared that one of Billy Ray's children was not happy. His daughter, Miley Cyrus has apparently rejected the idea of her father moving on. At the time, Firerose's age was still unknown and it seemed that she might have been younger than Miley. Last month, it seemed that Miley had stopped following her father on social media and he did the same. According to a source who spoke to The Sun: "Miley is all about peace but she didn't agree with some things that her father has done. It has really escalated and they are not on good terms. There were words over what happened towards the end of Billy and Tish's marriage, and since then, but they clearly see things very differently."
Yet, in an interview with People, Billy Ray is singing a very different tune. He alleges that his six children (five with Tish) knew that his marriage was over for some time. Therefore, they were more than prepared for what was next. "Everyone knew that that relationship was over a long time ago. Everybody's turning the page," Billy Ray revealed. He went on to note that there are "no hard feelings" about him getting engaged. Additionally, his fiancee's true age came out and she is actually 34.
It's Been A Lot
There is the acknowledgment that this has been a lot to go through. Right around the time that Tish filed, for the third time, Billy Ray Cyrus' mother was passing. That was when Firerose came to live with him and their romance just continued to evolve into what it is today. The duo explained that there was no formal proposal. Rather, he just knew that she was the one he wanted to be with forever so he told her that and the rest is history.
Firerose was able to customize her own ring and the future is in the palm of their hands. Plus, they have a new single, "Time," out now. Hopefully, his six children, Brandi, Trace, Miley, Noah, Christopher, and Braison do see how at peace he is and will genuinely allow him to move on.
Do you think Billy Ray's children understand that it was time for their father to be happy? Furthermore, do you think they have accepted Firerose? Let us know in the comments.