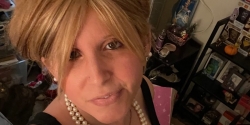 Latest posts by Amanda Nowitz
(see all)
Tish Cyrus is happily in love with actor Dominic Purcell after her divorce from Billy Ray Cyrus. Though her ex has clearly moved on with his fiancee, Firerose, Tish has also found happiness. So, what does Miley Cyrus' mother have to say about her relationship with the Prison Break star? Read on for more details.
Tish Cyrus Happily In Love With Dominic Purcell After Billy Ray Split
Billy Ray Cyrus has been sharing his love with musician Firerose since last summer. Then, in November 2022, the couple officially announced that they were engaged. It was very hard for Billy Ray's children, mainly his daughter, Miley. She seemed to distance herself from her father but it was unclear why. One of the reasons may have been the timeline between Billy Ray and Tish Cyrus' divorce and then how quickly he moved on with Firerose. Yet, he made it clear that the marriage had been over for quite some time, his kids knew that, and he and Tish had been living apart for two years.
More so, this was the third time that Tish had filed so this was not a big revelation. Fortunately, Tish seems to have moved on and is very happy. She had been casually seeing actor Dominic Purcell and lightly sharing their romance on her social media. Now, she has been sharing more photos of the two together and it is quite serious. According to Us Weekly, Tish believes that the Prison Break star is her soulmate.
Exclusive: Tish Cyrus "truly feels like she found her soulmate" in Dominic Purcell.https://t.co/QMPgkQLnZN

— Us Weekly (@usweekly) February 16, 2023

"Things couldn't be going better for Tish and Dominic. She truly feels like she found her soulmate," a source shared. The two started seeing each other last summer and kept it casual. For Tish Cyrus, she wanted to make sure this was the real deal. "Tish wanted to keep their romance under wraps for a little while until she was sure he was The One. However, that didn't take long, and they've been inseparable since. She absolutely sees a future with him and feels so blessed that they found each other," another source noted.
Kid Approved
Though Miley may be struggling with her dad moving on, she clearly is fine with Tish Cyrus' new romance. It seemed that Dominic and Tish had attended an event for Miley's hit song "Flowers." For right now, they seem to be just enjoying each other and that seems to be enough. Purcell was married once before for a decade and then was in a long-term relationship with actress AnnaLynne McCord. Hopefully, both Tish and Billy Ray's family can come together in love and happiness.
Are you surprised that Tish went from Billy Ray to Dominic? Let us know your thoughts about her new romance in the comments below.