Latest posts by Trisha Faulkner
(see all)
Lauren Alaina joins the growing list of celebrities and artists to mourn the tragic passing of Dancing With The Stars' iconic judge Len Goodman. As Tv Shows Ace reported early this morning, the week kicked off with some tragic news when DWTS fans learned Len Goodman had passed away. The news came as a bombshell as even hardcore Dancing With The Stars fans had no idea Len Goodman was even sick. It, however, has since been revealed that he was diagnosed with bone cancer and he passed away while in hospice surrounded by loved ones.
Lauren Alaina, the runner-up from American Idol Season 10, was heartbroken to learn of Len Goodman's passing. Like many other members of the DWTS family, however, she was just happy she had the chance to get to know him.
Lauren Alaina Remembers DWTS Judge Len Goodman
As fans of country singer Lauren Alaina know, she had the pleasure of competing on Dancing With The Stars during Season 28. Moreover, she actually did pretty well coming in fourth place! During her time on the show, she had the pleasure of getting to spend some time with Len Goodman. And, she had nothing but good things to say about her time with him.
She penned in the caption of her touching tribute to the late DWTS judge, "I am honored to have met this wonderful and talented man! He was a pure joy to be around and learn from."
The American Idol alum proceeded to send loving thoughts to the family he has left behind before adding:
He will be missed, but his memory and influence will live on forever. Rest in peace, Len.
Lauren Alaina treated her followers to a precious photo of herself dancing with Len Goodman as well as a few photos of herself and her dance partner spending time with Len.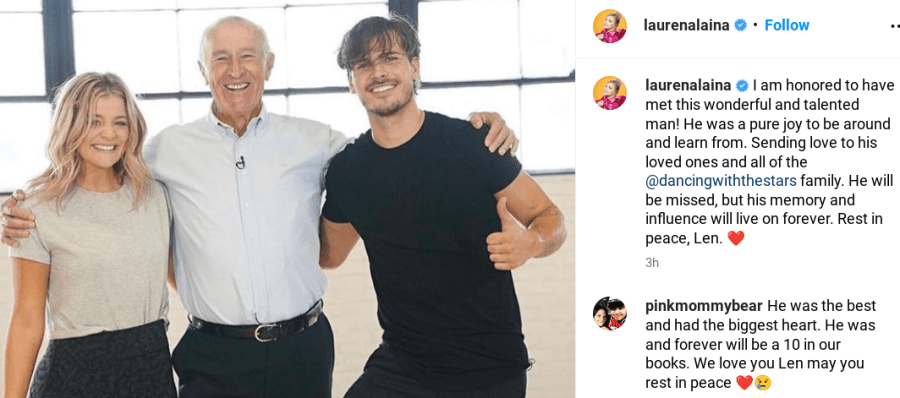 Her followers wished Len farewell
Pouring into the comments of her post, many of her followers were shocked to learn this iconic man had passed away. Heartbroken, fans thanked Lauren Alaina for taking the time to share these sweet photos with them. Here's some of what her followers had to say in the comments:
"I loved his smile so much. What great energy he had. RIP, Len."
"Remember when you were on the show? Loved him!"
"I was so saddened to hear about this"
Most of her followers agreed they remembered when she was on the show and they absolutely adored this man.
Rest in peace, Len Goodman.