Latest posts by Hailee Dent
(see all)
Kelsea Ballerini has recently opened up about her relationship with Netflix star Chase Stokes. Ballerini was previously married to country singer, Morgan Evans. The pair of singers had a messy divorce, resulting in Ballerini putting out some of her best music, which was all about her relationship and divorce with Evans. Fans have been gushing over Chase and Kelsea since their relationship debut in January.
Messy Divorce Calls For Great Music
Even though there were a lot of negative feelings throughout Morgan Evans and Kelsea Ballerini's divorce, several good things have come out of it. Ballerini recently released her EP titled "Rolling Up The Welcome Mat". The EP goes into detail about Morgan and Kelsea's marriage and divorce. Fans have seen that Kelsea was unhappy and her needs were not being met, this is a reasonable call for divorce. US Weekly pointed out that Kelsea hadn't felt the love in a while, the lyrics in one of her songs confirm that.
"I realize you loved me much more at 23 / I think that this is when it's over for me,"
Morgan Evans also wrote a song regarding their relationship titled "Over For You", could that line have been a dig at his song? Evans has made it known to viewers that the divorce was not mutual, but fans think he was oblivious that the relationship would not work out.
View this post on Instagram
Kelsea Ballerini Enjoys Being Public With New Boyfriend
Chase Stokes is known for his famous role on the Netflix show Outer Banks. The couple first started hanging out publicly in January and have been inseparable ever since. The actor has been seen at several of Ballerini's shows. Kelsea has even run off the stage to kiss him during a performance and has changed some lyrics in songs to fit him. The singer has been very open about this relationship, which is not typically normal for big celebrities, why is she choosing to let fans see every side?
"The thing that we've decided, and to each their own, is when you're with someone that you feel secure with and that you're proud to be with, why not share it? He's also a Virgo; we're both Labrador Retrievers in human form. It doesn't take much conversation to be on the same page. It's been half a year and it's been great."
Fans are ecstatic that the couple is thriving and doing well, viewers just want happiness for Kelsea after her not-so-great relationship with Morgan Evans.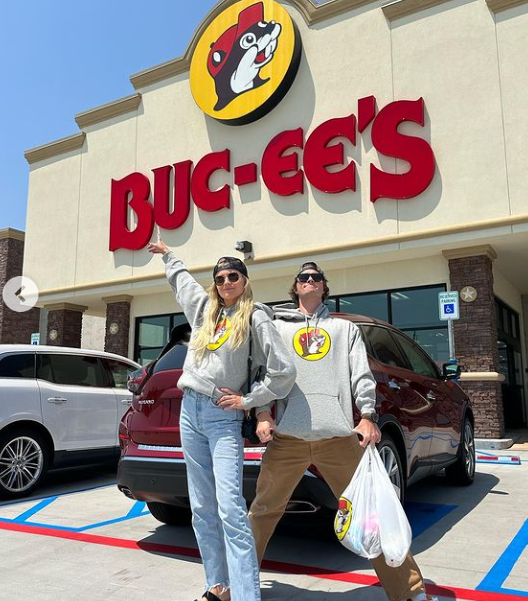 Fans have had Kelsea's back since the beginning of her divorce, but now more than ever. Regardless of her new thriving relationship, she has allowed fans to relate to her music in ways they have not before. Some even say Ballerini will be the Taylor Swift of country music, do you think they are right? Sound off in the comments below.