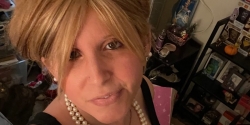 Latest posts by Amanda Nowitz
(see all)
What was the secret behind Kelsea Ballerini's VMA's quick change during her performance of "Penthouse" that wowed fans? For those who missed it, Ballerini went from a long white gown to a little black dress in the blink of an eye. Yet, how did she keep performing and do this without the crowd noticing? Read on for more details.
Secret Behind Kelsea Ballerini's VMA's Quick Change
Kelsea Ballerini has been living her best life since she and Morgan Evans split. Along with her boyfriend, Outer Banks star Chase Stokes, they have been traveling and she has been performing. Additionally, she just celebrated her thirtieth birthday on September 12th so what better way to do that than at the MTV Video Music Awards? She got up and had her devoted fans in tears as she belted out "Penthouse" off of Rolling Up the Welcome Mat (For Good). It was a beautiful and powerful rendition which she sang in a long white dress, her now shorn locks long again.

These are songs that fans know but have been revamped a touch since her divorce. However, toward the end of the performance, the room became smoky and covered up Kelsea Ballerini. When it cleared, it revealed that she had gone from her white dress to an LBD in the most amazing quick change. So, how did this happen? Prior to the show, Kelsea made a TikTok which she posted on September 13th. Apparently, there was a button inside the white number that she had to press.

Upon doing that, it would come undone, tear away, and reveal the black mini. However, Kelsea showed that there was some trial and error while she practiced pre-show. It had her feeling silly and goofy which is the Kelsea that fans know and love. She joked in the caption that she would tell her children she was once Houdini, a famous magician. Of course, her followers could not get enough and had to comment all about the fun she was having.
Magical Kelsea
It seems that what impressed fans the most was that Kelsea Ballerini posted a video while her hair was wet and she was bare-faced. Plus, her extensions were not even in so many were not even aware she had chopped her hair off. "She is the best, the fact she's so genuine and honest. 🥺 Like no makeup, hair wet and still just as happy," one wrote. Then, there were many who were excited to see the secret behind the transition. "I rewatched that part at least 10 times last night trying to figure out how you did it! Thank you for this queen 🙌🏼," a fan noted.
What did you think of her performance and the BTS peek at how she changed so fast? Let us know in the comments below.