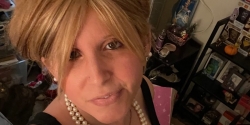 Latest posts by Amanda Nowitz
(see all)
Dolly Parton revealed how she is deeply connected to Elvis Presley. Though he passed away in 1977, his music has kept the legend alive. Now, Dolly is opening up about a sweet story involving Elvis, his ex-wife, and an iconic song. Read on for more details.
How Dolly Parton Is Deeply Connected To Elvis
There is so much more to Dolly Parton than big blonde hair and long, fabulous nails. She is an iconic musician, actress, and songwriter as well as a charitable human being. Ms. Parton is adored by everyone who meets her with songs that span generations. One of her most noteworthy singles was "I Will Always Love You," which she wrote and performed in 1973. It was given new life by Whitney Houston in 1992 for the smash hit film The Bodyguard. Yet, as it turns out, the heartfelt ballad resonated with Elvis Presley, as well and he used it at a very interesting time.

According to People, Elvis actually sang that song as he was divorcing Priscilla Presley. Dolly Parton shared the story on BBC Radio 2: "Elvis loved the song. In fact, I talked to Priscilla [Presley] not very long ago. She said to me, 'You know, Elvis sang that song to me when we walked down the courthouse steps when we got divorced. He was singing to me 'I Will Always Love You.'" The two wed in 1967 and divorced in 1973, having one daughter, the late Lisa Marie Presley.

Sadly, Elvis would pass away four years later but that imprint lived in Parton's heart forever. She also added that Elvis himself wanted to record the song, as well. Unfortunately, that would mean he would have to own half of it and she could not do that. She does honor him in her upcoming rock album. It is a single about having a dream that she and Presley did a duet together, which will be featured on Rockstar, out in November.
The Legacy Of Elvis
Though Elvis and Priscilla did divorce, their love story has been one for the ages and has been documented in many films. Most recently, Austin Butler was nominated for an Oscar as Elvis. As for Dolly Parton, she is set to leave a legacy behind for herself, as well. Not only does she have Dollywood, which is her very own amusement park but she has donated millions of books to children. Plus, she has a baking and animal line. There is nothing she cannot do and that is why fans love her so much.
Are you shocked that Elvis Presley sang a love song to Priscilla after they got divorced? More so, can you believe that Dolly has held that close to her all of these years? Can you imagine what the song would have sounded like if he recorded it? Let us know in the comments below.