Latest posts by Mandy Robinson
(see all)
Bunnie Xo confronts rumors of neglecting her dad's stage 4 cancer care, taking to Instagram to share a heartfelt update. Dismissing speculation, she emphasizes her dedicated efforts to provide the best possible support, shedding light on her challenges while expressing her commitment to her father's well-being.
Bunnie Xo Dad's Secret
"Bunnie's dad's doing well. He's sick. I hate to say it this honestly — he's clearly in what is obviously the last phase of his life but he's doing a lot better now that he's here. Bunnie moved him here. She's getting him all kind of help, a new chain of doctors … she's got enough resources to do a lot to try to help him.He's holding his head up really high."
Bunnie To The Rescue
Bunnie Xo, the wife of Jelly Roll, has opted to maintain a level of privacy regarding her father's stage 4 cancer struggle in recent weeks. However, in a recent Instagram Stories post, she provided a concise update on her dad, Bill. The update was prompted by a comment from someone who accused Bunnie of promoting inappropriate music while her dad 'is in the hospital, fighting for his life,' insinuating that such actions were inconsistent with Christian values. Bunnie writes over a video of herself visiting her dad in his medical care facility. In the clip, she walks over to Bill's bedside and reaches down to give him a long hug.
"Actually, you roach motel of a human, he was moved to hospice. But none of y'all know that because I've been dealing with him privately until my last video. Not only am I moving an entire house & trying to make it a home for my family while trying to smile thru heartbreak … I'm making sure my father wants for nothing. I've been so blessed to have this time w/him and I thank GOD for helping heal my inner little girl as well as my dad's inner child."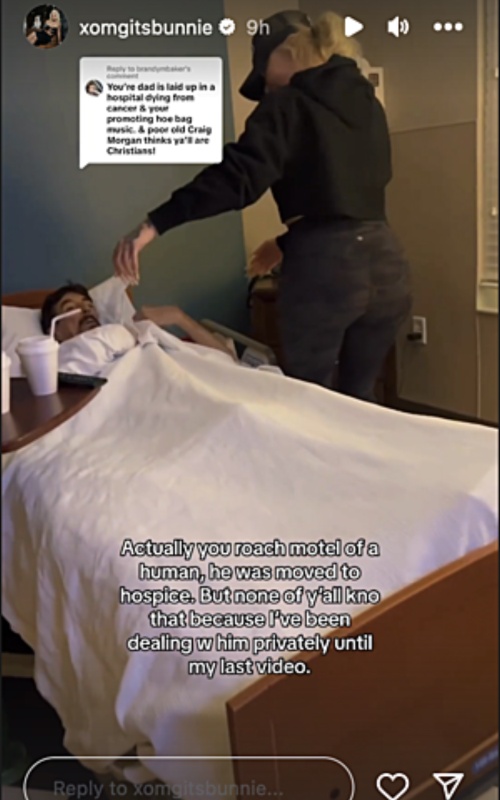 Bunnie has been opening up about Bill's journey with her followers whenever she feels emotionally capable of discussing the difficult subject.
Are you keeping Bunnie's dad in your thoughts too? Who can agree Bunnie is doing the very best for her dad? Sound off in the comments! We love to hear back from our fans