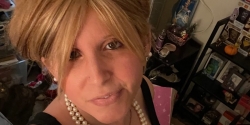 Latest posts by Amanda Nowitz
(see all)
GRAMMY-nominee Jelly Roll is gushing over his CMA Awards duet with the iconic Wynonna Judd. Though her appearance gave fans quite a scare, she nailed the song. More so, she shared her reasoning for her off appearance just the next day. Now, Jelly is opening up as to what it was like to perform with Wynonna and the experience of the night. Read on for more details.
Jelly Roll Gushes Over CMA Duet With Wynonna Judd
It was a big moment when Jelly Roll was joined on the CMA stage by Wynonna Judd for "Need A Favor." He promised a huge surprise as he opened the show. However, he kept it hushed so viewers were thrilled when she appeared but were also taken aback. She seemed shaky and unsteady, holding onto Jelly for dear life. They wondered if it was her vertigo which she had in the past. Yet, Wynonna revealed so nervous that once she saw Jelly, she wanted to do right by him. So, it paralyzed her, in a sense.

He also closed the show in a duet with K. Michelle doing a special tribute to The Judds. First, Jelly consulted with Wynonna to get her blessing. She wanted him to not only do it but do it big. Now, he is sitting down with his wife, Bunnie XO for her Dumb Blonde podcast to discuss all things Wynonna and the CMAs. Bunnie noted how sweet it was for Jelly to keep Wynnona sturdy as she held on to him when they were performing. He could clearly sense that she needed him and he was there for her.
Jelly started by saying how sweet Wynonna is and that she is the "sweetest human on Earth." He added that she did not have to perform with him as she has said no to plenty of people. She does her own thing and that is just who she is but she said yes to him. Jelly also shared that she has a heart for the "broken" and people like him. Therefore, she learned that so fast and put in hours of rehearsal time.
Spot On
Jelly Roll made it clear that, even though Wynonna Judd was holding on to him, she did not miss a single note in the song. This was pointed out by many fans who watched the show. Though they were concerned about her health, they were not concerned for her voice. He was so proud that she came out for his big night, no one could say anything about her whatsoever. Though trolls have been negative, Jelly has had to fight the urge to say anything back as he wants to rally around her because that is how much he loves and admires Wynonna. Luckily, she cleared it all up on her own.
Do you love that Jelly has so much respect for those who came before him? More so, do you appreciate the respect that he has for Wynonna? Let us know in the comments below.