If you're a social media user, you may have noticed "Travis Tritt" trending on Twitter over the weekend. Many of the tweets were asking who Travis Tritt even is. It turns out that the country music icon went on a mass-blocking spree and people were VERY confused. 
Travis Tritt Goes on Massive Blocking Spree on Twitter
On Sunday, September 6, Travis Tritt started trending on social media platform Twitter. As you may know, trending occurs when a name or word is mentioned literally thousands of times within a specific time frame. 
So, a lot of people were talking about Travis Tritt. And not for a good reason. The country music star tweeted around 8 p.m. EST that he was blocking any Twitter user who used the hashtag #resist, which is something Liberals allegedly tweet. 
He wrote in his original tweet that he got the idea from actor James Woods. James Woods is an outspoken supporter of President Trump. His tweets are often retweeted by the President himself. 
Crediting his friend, the country singer revealed that he used the search bar to weed out #resistors and then promptly blocked them. The purpose was to "make them as irrelevant as they have tried to make the rest of us." 
Per my friend @RealJamesWoods, type #resist in your Twitter search bar. Block at least twenty of these accounts per day. We will soon make them as irrelevant as they have tried to make the rest of us.

— Travis Tritt (@Travistritt) September 5, 2020
So, how did Twitter users react to being #BlockedByTravisTritt? As you expect. By trolling him. 
Many Twitter Users Respond to Being #BlockedByTravisTritt
The first question many Twitters users had was "Who in the heck is that??" One fan joked that Twitter should shut the account down until they investigate. 
I'm calling for a total and complete shutdown of Travis Tritt's Twitter account until someone finds out who he is.

— Mark Schweitzer (@MarkSchweitzer) September 6, 2020
Many people were surprised to find out that they were #BlockedByTravisTritt. They didn't even tweet the hashtag #resist, which Travis was using to weed people out. 
One Twitter user DID know who the "Foolish Pride" singer is and got blocked anyway. 
As a kid who grew up on '90s country, this is pretty surreal, especially because we've never interacted, but your loss, Travis Tritt. I'm delightful. 😌 pic.twitter.com/fNxdWBqUTA

— Charlotte Clymer 🏳️‍🌈 (@cmclymer) September 7, 2020
Former ESPN reporter Jemele Hill found herself blocked, despite having a positive run-in with Travis Tritt. She wrote that she always tells people about the time she met him at the Kentucky Derby. At the time, he was nice to her. But now that she's been blocked, she plans to tell a different story about the country singer. 
I've been blocked by both James Woods and Travis Tritt. Had anyone asked me about Travis Tritt before today I would have said he was a nice guy based off meeting him at the Kentucky Derby a few years ago. Now I'm going to re-tell that story and make him seem like a huge asshole.

— Jemele Hill (@jemelehill) September 7, 2020
By Monday morning, the Twitter war had taken a new turn. After several retweets of a make-up clad Travis Tritt, users began comparing him to 80s icon Boy George. Suddenly, the two names were trending together and Twitter users did NOT approve. 
Many Boy George fans took to Twitter to defend the "Karma Chameleon" singer. 
Don't get it confused people…Boy George is an icon, Travit Tritt is an eyesore! pic.twitter.com/0q23xp48ux

— Chaunce Omar Luckett (@ImChaunce) September 7, 2020
Hey folks, could we not use Boy George to insult Travis Tritt because the latter wore heavy makeup in a publicity photo? I'm sure it's unintentional, but that's pretty transphobic, not to mention low-key sexist and homophobic. It's unnecessary.

— Charlotte Clymer 🏳️‍🌈 (@cmclymer) September 7, 2020
So, Who IS Travis Tritt? 
The kerfuffle has been going on for so long that even Newsweek has picked up the story! So, who is Travis Tritt? Country music fans know who he is, of course. But it's quite the blast from the past! 
Travis Tritt was a country music charts staple in the late 80s and early 90s. One of his most famous songs was "Here's a Quarter, Call Someone Who Cares." 
Both the song's reference and Travis Tritt are irrelevant these days. In fact, one Twitter user joked that they've had as many hit singles in the last 25 years as the "Anymore" singer. (Zero.) 
He also once appeared on the Loretta Lynn and Friends Show. The 90s country star recently posted a flashback of the episode to wish the icon a Happy Birthday. As for Loretta, she's keeping busy by trolling fans with a marriage to Kid Rock.
Have you been blocked by Travis Tritt? Chime in on our Facebook page!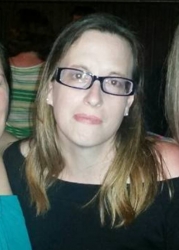 Latest posts by Jennifer Havener
(see all)