It goes without saying that 2020 presented unique struggles to everyone. E! reports on Maren Morris overcomes several obstacles thrown her way this year.
Maren Morris welcomes son, cancels tour, and navigates being a first-time mother.
While many things went wrong this year, it seems that Country songstress, Maren Morris, is getting some things right. E! guides fans through a timeline of Morris' monumental 2020. Beginning with the birth of her son, Hayes Andrew Hurd.
Excitingly, Maren Morris and her husband, Ryan Hurd, welcomed their son on March 23rd. Notably, this is right at the start of the coronavirus pandemic. Morris describes a mostly empty maternity ward as "really weird and eerie."
In an interview on CBS This Morning, Morris describes her labor as "pretty gnarly." Astoundingly, she was in labor for 30-hours. Ultimately, Hayes stayed breach, and Morris had to have a c-section. Consequently, she goes on to share with Bobby Bones that recovery was hard.  It seems that recovery is two-fold for Morris. It seems that not working out and having to reschedule her tour compounded and made a difficult recovery. Rightfully so, E! reports that Morris is "proud of herself for remaining upright." Additionally, Morris says, "It was just a lot mentally and physically."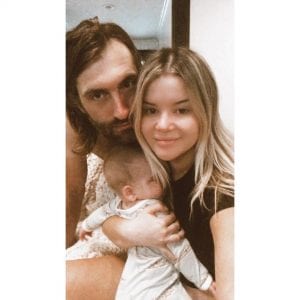 She gets candid about postpartum depression and being a mother.
Additionally, despite a bout with postpartum depression, it seems that Maren Morris can see the silver lining in a less than ideal situation.  Furthermore, she describes her progress as "coming through a tunnel."
For example, giving birth during a pandemic allows for some quality bonding time. Lovingly, she says, "We really couldn't have asked for a more magical human to be brought into our lives during this crazy time." Additionally, she says Hayes is a "good distraction from not being able to tour."
Undoubtedly, Morris is candid about her progress through navigating the uncharted waters of being a first-time mother. This includes being open about postpartum depression. Morris shares that she is in therapy. Luckily, she "was able to do phone therapy during the pandemic." Furthermore, Morris also gives merit to the say, "it takes a village."  She explains that she has people that would say things like, "Hey, if you're drowning right now, there's help."
Professional successes despite the challenges of 2020
Remarkably, Maren Morris' successes in her professional life haven't gone unnoticed. In spite of not being able to tour, with her record-breaking single 'The Bones," Morris explains the single;s succession. She explains to CBS This Morning that once the pandemic and racial unrest began in the United States, the song's theme went past being just a love song. "It was, the house don't fall when the bones are good. " Morris details that people would let her know that "That's our country right now."
Additionally, her successes don't go unnoticed by her fans and peers. For example, the songstress won Female Artist of the Year. Graciously, Morris says, "So I am just so humbled that my Nashville community, my industry peeps think that my year has been big because part of it has been 2020, which has been kind of a sh– show." Rightfully so, she goes on to say, "So, someone saying I had a good year is so much validation."
If Maren Morris has all this success during what is being categorized as a bad year, it's exciting to think about what the next year will bring for the Country music star. Stay tuned to Country Music Alley for more Country music news.