Kane Brown recently takes to Instagram and shares a stylish black and white photo of himself to promote his upcoming clothing line. However, that's not all the Country music mega-star shares with his fans.
Kane Brown releases the name and release date for his upcoming clothing line.
In the black and white photo Brown shares on Monday, November 30th, he's casually posed on a stool. He rocks a black hoodie with the word "family" in white block font. Just scrolling through Instagram, this doesn't look like anything out of the ordinary. However, the caption announces the release date of the clothing line. Kane Brown writes, "December 4th my FAMILY clothing line drops," with a fire emoji.
Additionally, Kane Brown tags Doni Nahmias in the post about his upcoming fashion line. According to magazinec.com, Nahmias is "L.A's next great menswear designer." Notably, Nahmias' clothing line is relatively young. It hit the scene in 2018. However, Kane Brown isn't the only celebrity to take notice of Nahmias' clothing line. In the bio article by magazine.com, they note Justin Bieber, J.Cole, and Miguel. Even professional athletes sport Nahmias' threads. For example, the article names James Harden and J.P Tucker. Speaking to the success of his friend Nahmias on an episode of CMT's Off The Road, Brown talks about the Miracle hats. "I'm just going to go ahead and claim that I was the first person who wore it and afterwards you seen people like Johnny Manziel and Justin Bieber and couple other basketball players wearing this stuff."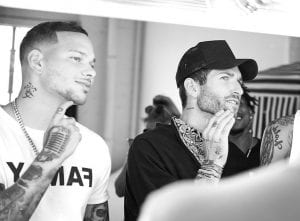 Fans react to the news
With an Instagram following of 2.7 million followers, anything Brown posts is sure to get some input from his fans. Assumably upset, one fan posts, "$400." At first glance, that price tag alone is enough to make a fan's heart drop. However, there doesn't seem to be cause for concern. Brown responds to the fan and assures them, "not mine."
Most of the comments mirror the sentiment that fans cannot wait to get their hands on these clothes. However, one comment stands out from the others. A fan writes, "You seriously need to do the super bowl half time show!" Sadly, Brown doesn't respond to this comment.
Also, in his episode of Off The Road, Brown's manager, Martha Earls, brings up that while artists may not be touring, their fans still want to represent their favorite entertainers. "We're in a time when you're not out on the road so you can start selling products to fans that isn't just that traditional 'tour merch' with dates on the back." Earls elaborates on the line's concept. She says, "it's almost like a fashion line a way that feels different."
While there doesn't seem to be any preorder news, fans are hyped about Friday's release. Will you rock a Kane Brown hoodie or hat? Let us know in the comments below. Come back to Country Music Alley for more news about your favorite Country stars.