Kane Brown takes to the stage for the Cowboys' Thanksgiving Halftime Show and now fans want a Super Bowl performance. Undoubtedly, the country megastar gives a killer performance.
Kane Brown Thanksgiving Halftime Show details
Clearly, this Thanksgiving Halftime performance isn't just another halftime show. DFW5, an NBC affiliate news station in Dallas/Fort Worth, Texas reports on the details. Notably, this performance launches the Salvation Army's 130th annual Red Kettle Campaign. Furthermore, DFW5 reports that the mission of the Red Kettle Campaign is to "help rescue Christmas for over 100 million Americans who are already or just a mere financial event away from living in poverty."
Given all the uncertainty of the ongoing coronavirus pandemic, Kane Brown seems to always find an opportunity to perform for his fans. Like his recent performances, this one is also taped in advance. According to DFW5, this is "due to NFL restrictions on field non-player activity." However, with the help from the Dallas Cowboy Cheerleaders, Kane Brown rocks the audience.
Katelyn Brown shares cuteness from behind-the-scenes.
Rocking adorable pink with cat year noise-canceling headphones, little Kingsley Rose Brown is behind the scenes to watch her daddy perform. Kane Brown's wife shares the adorable photo on her Instagram. Katelyn captions the cuteness with, "This cutie had so much fun watching daddy perform for the cowboys half time show."
Undoubtedly, this photograph of Kingsley steals the show as fans gush over how adorable she is. Not only that, fans thank Kane Brown and his wife, Katelyn, for sharing inside looks into their family life.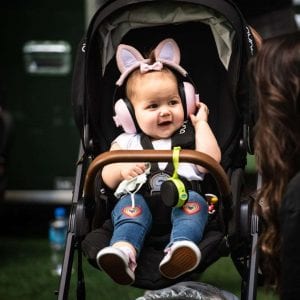 Kane Brown fans want a Super Bowl performance.
While many fans fawn over adorable Kingsley Rose, others make mention that they're sad they missed the Cowboys' Thanksgiving Halftime Show. A few fans mention they hope that their tickets for concerts in 2021 will pan out. Another fan raves about this halftime performance, while stating a Super Bowl halftime show needs to be next.
Unfortunately, neither Katelyn nor Kane responds to this comment. However, given how high energy Kane is, it's easy to imagine how spectacular a Super Bowl Halftime show would be. Not only that, Kane Brown has an extensive list of "Famous Friends" he could call on to amp up the energy even more. Just speculating, but coming off of the most recent season of Dancing With the Stars, surely Nelly fans would love to see him on stage again. The "Cool Again" remix seems like the perfect vibe for a Super Bowl show.
For more about the Salvation Army's Red Kettle Campaign, please visit their website. From there, it is also possible to make donations. Most importantly, "public contributions to Salvation Army kettles enable the organization to continue its year-round efforts to helping those who would otherwise be forgotten."
Did you get to see Kane Brown's Thanksgiving Halftime Show? What did you think? Do you want to see Kane Brown should perform at the Super Bowl? Let us know in the comments below. Come back to Country Music Alley for more news about your favorite Country music stars.