Country music legend, Reba McEntire slays in a recent before and after photo she shares with fans on Instagram.
Reba McEntire is "Fancy" and it seems like she knows it.
The 65-year-old Country music icon slays in her latest Instagram post. On the left side of the photo, it looks like Reba just got out of bed. The iconic redhead has her hair up, glasses on, and coffee in hand. She accessorizes with a monogrammed coffee mug and what looks like the coziest white, fluffy robe. Notably, this before photo is has 6:00 AM at the bottom.
In the second photo, captioned at just an hour and a half later, Reba is the definition of "Fancy." Her hair has maximum wave and volume. Her outfit is an all-black ensemble. Large silver hoop earrings, a long necklace with a black pendant, and a leather jacket tie everything together.
However, it is uncertain what Reba is dolled up for. This is because, she simply captions the post, "Ummmmm-hmmmm." Consequently, with a caption like that, the door is wide open for interpretation. Additionally, she tags @brettglam.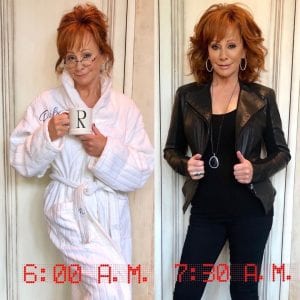 Who is Brett Glam?
According to his Instagram page, BrettGlam is "Brett of @brettbrow." BrettBrow is a product line of "flawless brow products" that are 100% cruelty-free. Additionally, Brett's Instagram bio mentions Celestine Agency LA/NYC.
Scrolling through Brett's Instagram, it appears that he is a makeup artist with quite the celebrity clientele. For example, Barbara Crampton, Sarah Silverman, and Camila Cabello grace his Instagram page. However, one face seems to appear more often than others in the recent past. And, that's no other than Reba McEntire. It appears that he regularly is a part of her glam team for awards shows and other performances. Surprisingly, Brett's YouTube page hosts videos of doing Reba's make-up that is as old as 11 years.
Fans react to Reba's flawless before and after photo on Instagram.
It goes without saying that Reba McEntire is stunning in both photos. Furthermore, it is hard to believe that the "Does He Love You" singer is 65-years-old. While many people in the public eye, quickly find themselves as prey to internet trolls anytime they post anything on the internet, that doesn't be the case for Reba. While scrolling through the comments, it seems that the Country music legend gets nothing but compliments in her comments section. Many of them mirror the sentiment that Reba is gorgeous with or without makeup.
Also, one fan suggests that Reba should sell her robe and coffee mug on her website. The fan writes, "You look amazing! Also how about selling the robe and the coffee mug on your website? That would be too cool." The fan concludes their comment with a smiley face emoji. Additionally, another fan commends the original commenter for having such a great idea.
What is your favorite Reba McEntire look? Did you know about BrettGlam? Let us know in the comment section below. Come back to Country Music Alley for more news on your favorite Country artists.