Country music legend, Reba McEntire shares where fans can find her clothesline and boots collaboration. Without a doubt, the Country star looks as radiant as ever in her recent Instagram post.
Details on Reba McEntire Clothes and Boots
Luckily for Reba McEntire fans, they have all the details on where to find clothes and boots by the Country singer. For example, in her latest post, the iconic redhead sports a denim head-to-toe look with shades of brown geometric design down the sleeves of her denim jacket. Also, the embroidery across the top of the breast pockets matches the design down the sleeves. It seems that her jeans are a dark wash, slim or skinny cut sine they're neatly tucked into knee-high leather brown boots.
Just in time for the holidays Reba McEntire clothes and boots are a great gift for any Country music fan. It seems that Reba knows this. She captions the photo with, "Looking forward to the holidays!!! And you know what makes great presents? The Reba clothes from @dillards and Reba by @justinboots_!"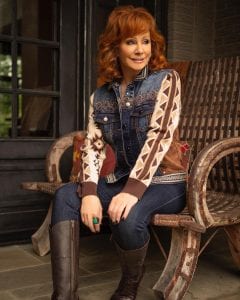 Shop Reba McEntire's Look
Furthermore, Reba gives her fans the ability to shop her look by detailing what she's wearing in the photograph. She pens, "I'm wearing the mixed media denim trucker jacket, the Tanya skinny jean and the McAlester boot." Additionally, she shares links to find the entire clothes collection and boot collaboration.
As far as pricing goes, it seems that Reba's line has typical department store prices. The Mixed Media Jacquard Sleeve Faux Suede Side Panel Denim Trucker Jacket retails for $158. Additionally, it seems like the whole line is exclusive to Dillards. The Tanya Ankle Denim Jean is made with Cotton/Polyester/Rayon/Spandex. Additionally, these jeans are recommended for handwashing. Sadly, they are only available in sizes 4-16 and retail for $68.00.
For fans that aren't privy to buying Justin boots, Reba's may come with a bit of a sticker shock. This is because the McAlester boot from Reba's photo retails for $214.95.  However, there is only one review on the website, and it's a five-star review. The reviewer notes that the boot fits true to size and true to width. Additionally, the reviewer writes, "I bought my boots 2 months ago and I'm so glad I did. They are so comfortable and stylish. Best investment I have ever made for my feet."
Reba McEntire Celebrates 30th Anniversary of 'Rumor Has It' Album With Re-Issue
Fans react to Reba's clothesline and boot collaboration.
It seems like everything that Reba touches turns to gold. Once again, the Country music legend posts something on social media that seems to get nothing but rave reviews. Of the more comical comments, one fan writes, "If it's your clothes that make you look 20… I'll take the entire collection."
What do you think of Reba McEntire's clothes at Dillards and her boot collaboration with Justin Boots? Let us know in the comment section below. Come back to Country Music Alley for more news about your favorite Country artists.