Carrie Underwood talked about her first-ever Christmas album. The country singer dropped her album, My Gift in October. She also has a special on HBO Max to accompany it.
My Gift: A Christmas Special from Carrie Underwood features her performing original songs and classics off her 11-track album. It also includes her duet with John Legend on his new song "Hallelujah."
But what about new music? Does she plan to release a follow-up to Cry Pretty? In a separate interview, Carrie had no intentions of talking about new music. But she kind of shared some details on what she has up her sleeve.
Country superstar talks about first-ever Christmas album
In an interview with ET Canada, Carrie Underwood shared her thoughts on recording a Christmas album. She admits that the best gift was recording "Little Drummer Boy" with her five-year-old son Isaiah. He already has the singing bug. But he still doesn't fully understand what she does for a living.
"He did such a great job," she told the outlet. "He sang from his heart, and I think that's the coolest thing. He doesn't really know my job, he doesn't know that there's lots of people out there that listen or come to the shows. I mean, he's seen me in concert but I don't think it quite registers."
"He loves singing, so I feel like you can really hear that in the song," she gushed about the track.
Does Carrie think Isaiah will follow in her footsteps? She hinted that he already "has a lyrical mind." Not only can her son "remember lyrics," but "he's always making up his own songs." She's interested in seeing where his journey will end up.
Carrie has found a balance as to keeping her family private and sharing special moments on social media and television. The "Before He Cheats" singer says she talks to her husband Mike Fisher on "what's worth it" and what's not.
"I don't want to plaster my children all over everything I do 'cause they're gonna live their own lives and they're gonna have their own things," Carrie explained. "I would never want anything I do or post or whatever to come back to haunt them or embarrass them when they're older."
But she admits that there are times when "I need them to be part of that."
Does Carrie Underwood plan to release new music in 2021?
Carrie Underwood also spoke to Taste of Country about her holiday album. However, she was asked about her plans for the new year. New music wasn't on her mind. But she decided to tease her new music. At first, she coyly said "There's always things to do" and "I always have things going on."
"I'm always working on something, you know," she teased. "I feel like that's just part of what we do, even when I'm in the middle of making an album someone is sending me demos or something that I'm like, 'Ooh that sounds nice.' I'm always writing down ideas and just always looking for ways to be creative. So, I'm always working on something or thinking ahead."
As for touring plans, Carrie has some dates planned, pandemic pending. The singer said she'll keep her fingers crossed and hope for the best. Like everyone else, Carrie wants to get back on stage and do what she loves to do. Her last album, Cry Pretty, dropped in September 2018, and her last radio single was "Drinking Alone" in November 2019.
Are you excited for Carrie's new music? Sound off below.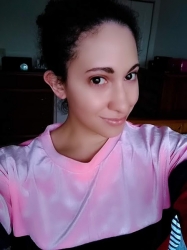 Latest posts by Chanel Adams
(see all)