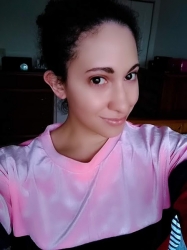 Latest posts by Chanel Adams
(see all)
Country singer Kacey Musgraves teamed up with Australian singer-songwriter Troye Sivan for their new song "Easy." The 32-year-old and the 25-year-old dropped the new duet at midnight Thursday. The duet shared their song and new video, which shows them having a wild night on the streets of Nashville. In the new tune, Kacey admits she's "not easy" to love.
Earlier this year, Troye released his track "Easy." But this time around, it features both Kacey and Mark Ronson. The duo shared snippets of the video on their social media accounts. The Bardia Zeinali-directed video dropped on early Thursday morning. Vogue calls it a "dive bar dream," which is much-needed right now.
Kacey Musgraves and Troye Sivan's "Easy" video
The video starts out with Troye Sivan sitting around, while Kacey Musgraves fixes her trademark locks. The pair head into the Nashville night. They drive around in an antique car. From there, they end up in an underground club where a drag queen named Jorgeous sings into her microphone on an empty stage.
Kacey and Troye also pose in front in front of an adult toy store. But it's their iconic looks that steal the show. Troye wears a short-sleeved T-shirt with an Adidas zip-up and flared denim jeans. In another scene, he wears a pair of distressed jean shorts pulled below to reveal a transfer tattoo that reads "easy."
Kacey wore a white sequined dress, a matching fur coat, and vintage heeled sandals. In the final moments of the video, the "Rainbows" singer enters the dive bar to perform a lap dance. She drops her fur coat to the floor. The two head back to the motel parking lot where they enter a dark pick-up truck and head off into the night once more.
The pair teased the single just days before its release. Kacey posted a preview clip on Instagram on Monday. She's seen dying her hair blonde while gazing into the mirror of her hotel room. Another clip shows the sink filled with various items, including metal scissors and what looks like blood. Troye is then seen smoking as the two stood in front of the grim motel.
"Slow Burn" singer puts on a leggy display
Kacey Musgraves put on a leggy display on social media. She posted a series of leggy shots from the music video. The Grammy winner posed for the photos as she stood on the sidewalk outside of the adult store. She channeled her inner '70s goddess.
"I know what I want and it gets in my way," Kacey captioned the slideshow. "I know I'm not easy."
Of course, the photos didn't just feature her. She also cozied up to Troye Sivan. Fans went crazy for their new song and sexy new photos.
"Body ody ody ody ody," one follower wrote.
"Please please please step on me!" another commented.
"Serving me legs mama," posted a third fan.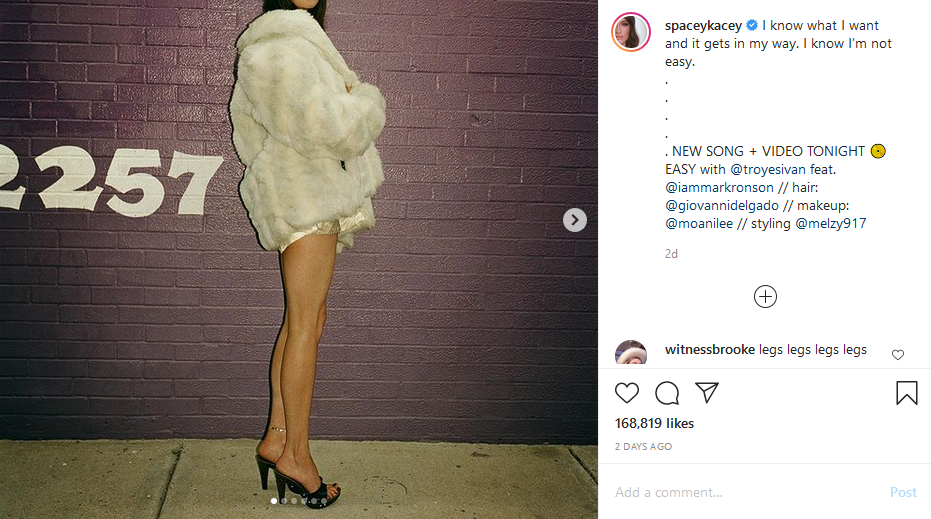 Country singer Hunter Hayes commented on Kacey's thirst trap photos. He joked that it "gives me hope for the future!" What are your thoughts on Kacey's new look? Sound off below.