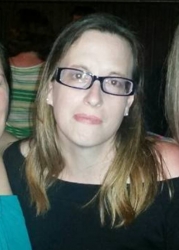 Latest posts by Jennifer Havener
(see all)
Husbands are notoriously bad at picking Christmas gifts for their spouses. Dishwashers, cutlery, and socks are just a few of the gifts under the Christmas tree. Country singer Carrie Underwood recently got an early Christmas present from her husband, Mike Fisher. Cows. Plural. 
The Cows Come Home For Christmas
Carrie Underwood already has one… or two of her Christmas gifts. The crooner's NHL-alum husband, Mike Fisher, gave her what she really, really wanted: Two cows. While the couple has a farm in Nashville, the cows are more than just livestock. It seems Carrie Underwood loves cows and wanted some for pets.
So, Mike Fisher took himself down to the auction and bought her two of them. He shared the news last week on his Instagram Stories. 
.@carrieunderwood's son picked the PERFECT name for their new COWS! 🐮🐮https://t.co/BqcEiDu13O

— Country Now (@CountryNow) December 10, 2020
The two cows join the couple's chickens. Country Now reports that the farm's brood will keep expanding. Reportedly, the next animal will be donkeys. Carrie Underwood said donkeys are on the list "because they're good to have as far as, like, coyotes go on the farm." Additionally, she hopes to add more chickens to her roost. 
Carrie Underwood's 5-year-old Son Names the Cows
It seems Carrie Underwood isn't the only family member who love cows. Her 5-year-old son Isaiah was given the honor of naming the cattle. He chose "Oreo" for the black-and-white one, and "Brownie" for the brown cow. 
In September, the country singer's new Christmas album came out. Not only did Isaiah get to name the cows, the youngster sang on The Gift album. 
American Idol Alum Takes Part in the 'Elf on the Shelf' Challenge
Celebrities are having fun on social media with a Christmas-related challenge. If you have kids, you're likely familiar with Elf on the Shelf, the magical elf scout sent by Santa to watch over children. 
A new social media challenge called #elfontheshelfchallenge has celebrities giving their best rhyme game. To participate in the challenge, celebrities share a photo of themselves with a smaller photo of another celebrity photoshopped on their shoulder. The challenge is finding a celebrity with a rhyming name. 
Carrie Underwood gleefully took part in the social media challenge earlier this week. She shared a photo of herself bundled up in an orange sweatshirt. Photoshopped onto her shoulder was a photo of Mariah Carey. Carrie Underwood hashtagged the post #CareyonCarrie.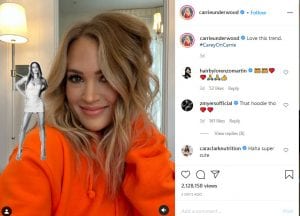 What do you think about Carrie Underwood's unconventional Christmas present? Have you ever received livestock as a Christmas gift? 
Head over to our Facebook page to keep up with all the latest news. While you're there, drop a comment with the strangest Christmas gift you've ever gotten.