Today on the Tamron Hall Show, country music legend Ty Herndon and Broadway star Kristin Chenoweth are together to perform their special duet Orphans of God as Hall shared it was the perfect song for the times and the moment.
Grammy nominated country singer Ty Herndon has teamed up with Emmy and Tony award-winning actress Kristin Chenoweth for this special new song.
Just in time for the holidays, Tamron Hall is featuring their duet,  Orphans of God, which is a reflection on the tough year we all have endured and is a testament to our collective perseverance.
This track will appear on Ty Herndon's upcoming Christmas Album, entitled Regifted.
Ty Herndon tells Tamron Hall why he did the song
Responding to Tamron's questions, Herndon said: "Wow, you know I've loved this song forever, and I just, I wanted to put it on several last
projects but it just didn't seem to fit and I know why now because we were going to move into a time that was just so challenging for everybody. And Kristin and I have been talking about doing something together and it just was the right time for this song  because we just felt like the the world needed a big hug… and that's that's just what this song is."
Tamron noted that there was a personal connection that facilitated the recording.
Ty said his relationship with his guitarist who happened to be Kristin's boyfriend was the back door route.
He said" "Well you know, she's got this this boyfriend that actually plays guitar for me sometimes so I just kind of worked the back angle
of it."
More quotes from Kristin and Ty:
Kristin on hosting the new competition show "Candy Land":
"The whole set was edible. Okay, understand. So there might have been a lollipop situation and a chocolate situation. The third thing I want to say is I love my outfits. You know, in the pandemic we have been…by the way I love your dress today Tamron. I haven't worn anything with a waistband in forever. So, to get to wear pretty clothes again I was like yes! Also, I'm not a cook. So, those cooks out there listening I could really use a good teacher. I've watched these artists create just mold and forge stuff on their own. It was awesome"
Ty on celebrating the 20th anniversary of his Christmas album "Regifted":
"Well, the songs were originally recorded 20 years ago, it is the 20th anniversary for this album, but I think only 245 copies were sold online back then. I don't know, something like that. I went back and listened to it after the success and stuff we've had over the last 20 years and I didn't change a thing man. It's songs from my grandmother's Christmas cantata from Calvary Baptist Church in Butler, Alabama and that's how the songs came to be. We just gave them a little bit of love and then added my good friend Ms. Kristin Chenoweth and Mr. Paul Cardall on this amazing single and "Regifted" was born."
Kristin on being a part of Tamron's special holiday show celebrating teachers:
"You know what Tamron, I've been watching your show today and just crying all over the place because what we need is laughter and happiness. And the teachers that you've had on here have really touched my soul and right now laughter, music, those are the things we're looking for and that your show today has really just brought me to tears over and over."
Also on today's show, host Tamron Kicks Off 'HALLelujah It's The Holidays – A week Of gifts galore, as she honors the teachers for their commitment to all kids during this pandemic time.
Following are highlights for Tamron Hall for the week of December 14, 2020. Check local listings.
** All this week: "HALLelujah it's the holidays – a week of gifts galore" – holiday giveaways for the most deserving families. Plus, viewers at home will have the chance to win special giveaways.
Tuesday, December 15: Hit TV show "SEAL Team" cast members David Boreanaz, Max Thieriot, Toni Trucks, and Tyler Grey. Plus, a special performance by TV and Broadway legend Sheryl Lee Ralph to help spread the holiday cheer. And, "HALLelujah it's the holidays – a week of gifts galore" continues as Tamron honors military families who sacrifice so much, supporting those who serve.
Wednesday, December 16: "Top Chef" Carla Hall serves up her favorite festive eats. Plus, Grammy Award-winning singer JoJo keeps the holiday celebration going with a special performance. And, Tamron surprises hospital heroes today on "HALLelujah it's the holidays – a week of gifts galore."
Thursday, December 17: Grammy nominated R&B singer Fantasia and her husband Kendall Taylor, who are expecting their first child together, share their love story. Plus, a big surprise for deserving families as "HALLelujah it's the holidays – a week of gifts galore" continues.
Friday, December 18: The cast of "High School Musical: The Musical" takes center stage with a special performance. And, from Amazon Studio's "Sylvie's Love," Nnamdi Asomugha. Plus, "HALLelujah it's the holidays – a week of gifts galore" concludes as we pay tribute to the essential workers who have become our everyday heroes.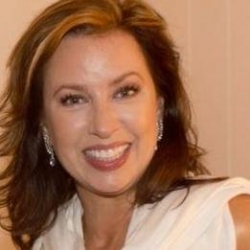 Latest posts by April Neale
(see all)